Meghan Markle's Dad Faked Paparazzi Photos Sold for $130K+, Report Claims
A photography scandal has erupted leading up to this week's royal wedding between Prince Harry and Meghan Markle. Markle's father is accused of staging a series of paparazzi photos that were sold for an estimated $130,000+.

The Daily Mail reports that Thomas Markle was caught on CCTV collaborating with Los Angeles-based paparazzi photographer Jeff Rayner on a series of photos that were sold to publications around the world for up to £100,000 (~$136,000).
The 73-year-old can be seen in the March 27th footage walking with Rayner at an internet cafe in his town of Rosarito, Mexico. The manager of the cafe tells The Mail that the shoot was staged.
Shortly after that day, outlets began publishing Rayner's "paparazzi" photos showing the elder Markle getting measured for his wedding suit and reading a book on Britain.
It turns out Meghan Markle's estranged dad has been staging all those ridiculous paparazzi photos of himself https://t.co/EANoDfoABO

— The Cut (@TheCut) May 13, 2018
*NEW:
Shame on you, Thomas Markle.
By staging these paparazzi photos you'll have broken Prince Harry's trust & your little girl's heart.
My column: https://t.co/mxJUbiuQCO pic.twitter.com/lVP1DH5xwB

— Piers Morgan (@piersmorgan) May 14, 2018
"In all of them Mr Markle appears to be unaware they are being taken," The Daily Mail writes. "But we can today reveal they were in fact contrived and shot with his co-operation. It is not known if he was paid to take part."
The Daily Mail reports that the photos of Markle being measured by a tailor were actually shot at a nearby party goods store after Markle and the photographer arrived at the tailor shop and found that it was closed that day. The party store employee in the photo was reportedly paid $15 to pose as the tailor.
Both Mr. Markle and Kensington Palace had in recent weeks been urging photographers and publications from shooting and sharing photos of Mr. Markle, saying that he has been harassed by paparazzi in recent days.
Megan's half-sister Samantha Markle has since taken responsibility for the staged paparazzi photos through Twitter and in a TV interview, saying that the goal was "positive photos" of her father and not profit.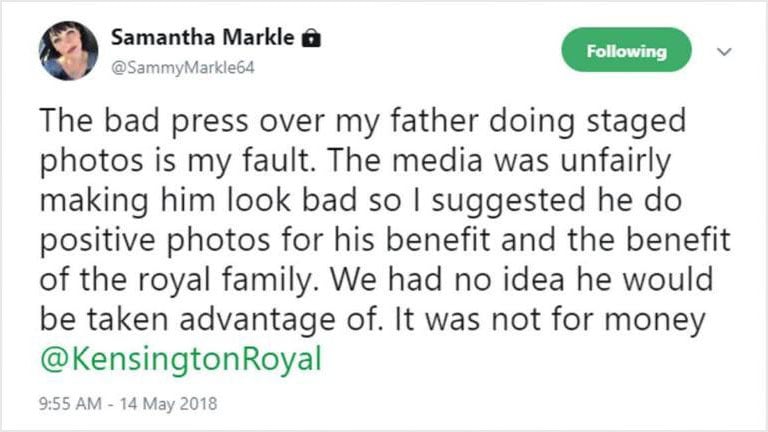 "I have to say I am entirely the culprit. I said, "'you have to show the world you're getting in shape.' It was my suggestion," Samantha said in an appearance on the British talk show Loose Women. "I don't believe he was paid and if he was it was a pittance. I can understand it's awkward for Kensington Palace."