Google Photos to Use AI to Colorize Black-and-White Photos
Google is taking to the stage at the Google I/O developer conference this week to show off its new products and technologies, one of which is a new AI-powered version of Google Photos. The new app will feature a host of new intelligent features, including the ability to colorize black-and-white photos with one tap.

The "Colorize" tool uses artificial intelligence to make a "best guess" of what a color version of an old monochrome photo would have looked like.
While the neural network is good at certain subjects such as turning grass green, others, like nailing the skin tones on people, are a lot more challenging. So, Google is working to improve the feature and won't be launching it until it's "really right," the company tells TechCrunch.
Colorization has traditionally been done by Photoshop experts who spend hours upon hours researching colors and meticulously converting small portions of photos at a time. But researchers have been making huge strides in teaching AI how to colorize images through learning from examples. Simple apps and websites have also emerged to provide auto-colorization.
With Google's vast image libraries, world-class researchers and developers, and AI prowess, though, we may soon see some colorization results that push the envelope in terms of what's possible.
Google is also baking a host of other AI-powered features into Google Photos, including automatic content creation (collages, animations, movies), automatic photo enhancements (e.g. brightening dark photos, rotating, and desaturating the background of portraits), and facial recognition (e.g. recognizing people in photos and asking if you'd like to share with them).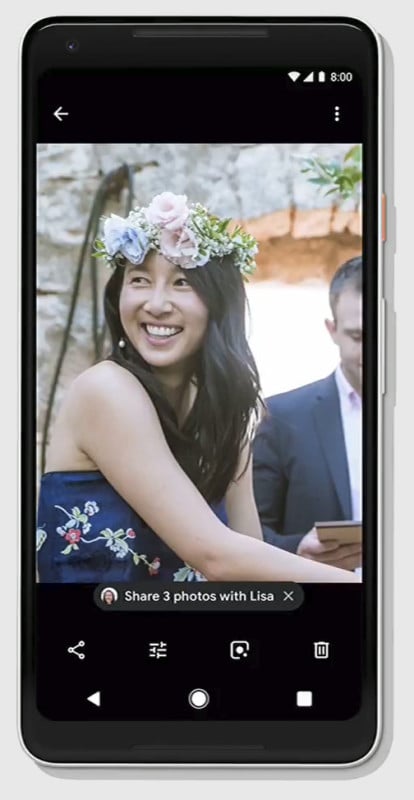 It's easier than ever to take action on your pictures in @googlephotos. Rolling out today, you may start to see suggestions to brighten, archive, share, or rotate your photos, right on the image. #io18 pic.twitter.com/NPT0l0GuBy

— Google (@Google) May 8, 2018
You can watch Google CEO Sundar Pichai introduce these new Google Photos features during the Google I/O keynote yesterday in this video (it starts at 1:33:15):
You can start using some of these powerful new features today by downloading the latest version of Google Photos for iOS and Android.