Here are the 6 Finalists for World Press Photo of the Year 2018
For the first time in its history, the most prestigious photojournalist prize in the world has unveiled the finalists of its Photo of the Year contest before selecting a winner. The 6 nominees were unveiled today by the World Press Photo.

Warning: The photos displayed below depict graphic violence and may be disturbing to some viewers.
The winner will be announced at a special Awards Show in Amsterdam on April 12th, 2018. Here are the 6 finalist photos in alphabetical order of the photographer's last name:
#1. "Rohingya Crisis"
28 September 2017. The bodies of Rohingya refugees are laid out after the boat in which they were attempting to flee Myanmar capsized about eight kilometers off Inani Beach, near Cox's Bazar, Bangladesh. Around 100 people were on the boat before it capsized. There were 17 survivors.
#2. Boko Haram Strapped Suicide Bombs to Them. Somehow These Teenage Girls Survived. – Aisha, age 14.
21 September 2017. Aisha (14) stands for a portrait in Maiduguri, Borno State, Nigeria. After being kidnapped by Boko Haram, Aisha was assigned a suicide bombing mission, but managed to escape and find help instead of detonating the bombs.
#3. Witnessing the Immediate Aftermath of an Attack in the Heart of London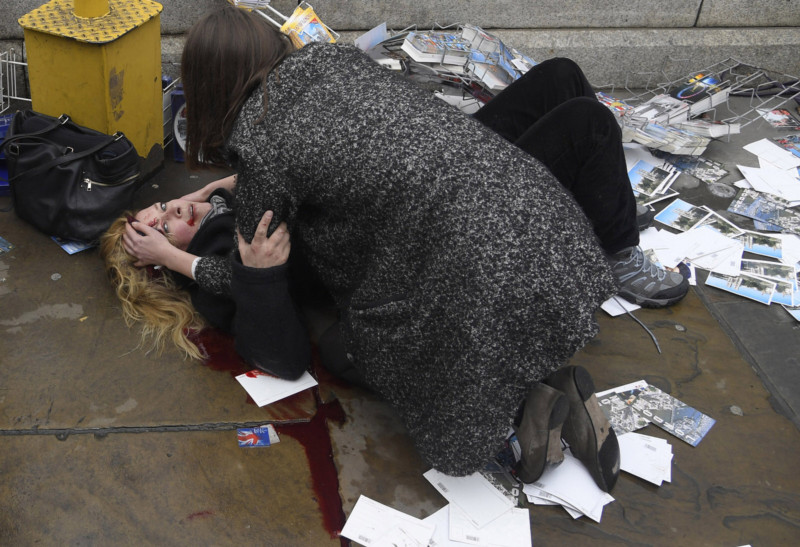 22 March 2017. A passerby comforts an injured woman after Khalid Masood drove his car into pedestrians on Westminster Bridge in London, UK, killing five and injuring multiple others.
#4. The Battle for Mosul – Lined Up for an Aid Distribution
15 March 2017. Civilians who had remained in west Mosul after the battle to take the city line up for aid in the Mamun neighbourhood.
#5. The Battle for Mosul – Young Boy Is Cared for by Iraqi Special Forces Soldiers
12 July 2017. An unidentified young boy, who was carried out of the last ISIS-controlled area in the Old City by a man suspected of being a militant, is cared for by Iraqi Special Forces soldiers.
#6. Venezuela Crisis
3 May 2017. José Víctor Salazar Balza (28) catches fire amid violent clashes with riot police during a protest against President Nicolas Maduro, in Caracas, Venezuela.
Which photo would you select as the winner if you were on the jury?
Here's a video in which this year's jury discusses why they selected these 6 nominees:
In addition to the 6 finalists for Photo of the Year, 312 photos from 42 photographers in 22 countries (Australia, Bangladesh, Belgium, Canada, China, Colombia, Denmark, Egypt, France, Germany, Ireland, Italy, Norway, Russia, Serbia, South Africa, Spain, Sweden, The Netherlands, UK, USA and Venezuela) were nominated across 8 categories (Contemporary Issues, Environment (new in 2018), General News, Long-Term Projects, Nature, People, Sports, and Spot News).
In all 4,548 photographers from 125 countries submitted 73,044 photos to this year's contest. Of the 42 finalist photographers, 15 have won previous awards at World Press Photo and 27 have been nominated for the first time. You can view all the nominated photos here.
The winner of World Press Photo of the Year 2018 will win a cash prize of €10,000 and a selection of camera equipment from Canon. The prize-winning photos will also be shown in an exhibition that will travel to 100 locations in 45 countries to be seen by over 4 million people.