Vanity Fair Gives Reese Witherspoon and Oprah Extra 'Leg' and Hand
Vanity Fair just unveiled its latest Hollywood issue, which features a cover photo of 12 Hollywood stars captured by photographer Annie Leibovitz. But people are talking about the photos today for all the wrong reasons: the cover photo (shown above) appears to show Reese Witherspoon with a 3rd leg and another photo definitely shows Oprah with a 3rd hand.

Here's the crop of the group portrait above that was used on the cover:
People on social media began pointing out that Witherspoon looks like she has three legs in the photo: one extended and two crossed.
Imagine the millions of dollars that have been spent digitally removing Reese Witherspoon's third leg from films and TV shows over the years. pic.twitter.com/mawsX6WLZ9

— Mark Savage (@mrdiscopop) January 26, 2018
im tryna figure out how many legs reese witherspoon's got in here, it's been bothering me for the last five minutes pic.twitter.com/u1uQ63sDdd

— space wifey 👑 (@leiascaptain) January 25, 2018
Oh no, there are definitely 3. Look at the top of the slit. One leg upright/standing, then 2 legs angled/crossed. pic.twitter.com/g1VK5yDI1v

— Elizabeth (@khamsin) January 25, 2018
Witherspoon herself soon joined in on the discussion.
Well…I guess everybody knows now…I have 3 legs. I hope you can still accept me for who I am. 😃( and I will never apologize for snuggling @Oprah .. if you get the opportunity, I highly recommend it;) https://t.co/6GyrfWxNSY

— Reese Witherspoon (@RWitherspoon) January 25, 2018
Another photo in the issue, by photographer Matthias Gaggl, also attracted attention… because Oprah can clearly be seen having three hands.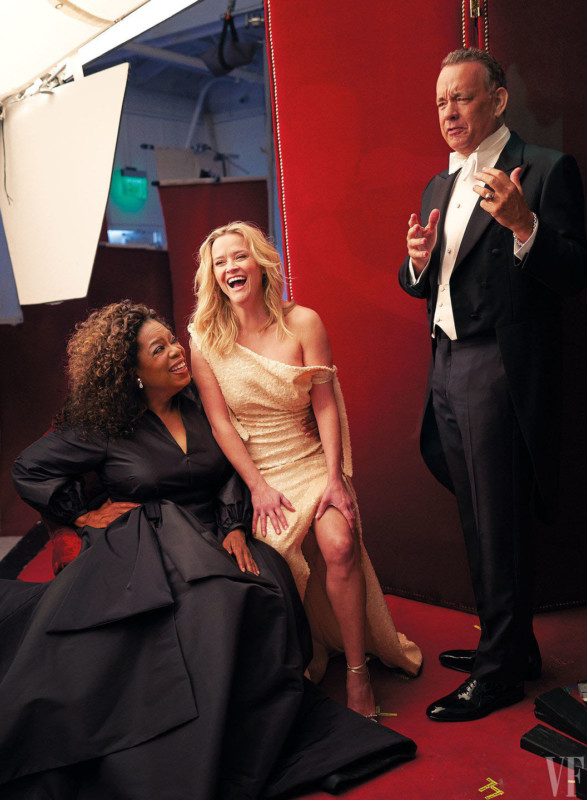 Now that Oprah has been exposed as an alien with three hands, her prospective presidential candidacy takes on more sinister overtones: pic.twitter.com/ZzP3GDza7x

— (((Yair Rosenberg))) (@Yair_Rosenberg) January 25, 2018
"YOU get a hand! And YOU get a hand! And YOU get a hand!" pic.twitter.com/4lsl1vGW0K

— Tim Marcin (@TimMarcin) January 25, 2018
Oprah responded to Witherspoon with a sympathetic Tweet:
I accept your 3d leg. As I know you accept my 3d hand👋🏾👋🏾👋🏾❤️

— Oprah Winfrey (@Oprah) January 25, 2018
It seems that the Witherspoon 3rd leg "fail" may simply be an optical illusion. Vanity Fair soon Tweeted a response, saying that the apparent 3rd leg is actually the lining of Witherspoon's dress:
While we would have loved the exclusive on @RWitherspoon's three legs, unfortunately it's just the lining of her dress. https://t.co/HJjvbc037S

— VANITY FAIR (@VanityFair) January 25, 2018
Vanity Fair had no defense for Oprah's 3rd hand, though. The magazine admitted that it was a Photoshop fail and stated that the online photo would be fixed (which it soon was):
As for @Oprah, how can we expect her to juggle it all with just two hands?
¯\_(ツ)_/¯_/¯ (We are correcting this error​ online​.) https://t.co/QNd74YtSTz

— VANITY FAIR (@VanityFair) January 25, 2018
You can find the full Hollywood issue photo portfolio over on the Vanity Fair website.
---
Image credits: Header cover photos by Annie Leibovitz