DJI's Ronin-S is its First One-Handed Stabilizer for DSLR and Mirrorless
DJI has announced the new Ronin-S, the company's first single-handed stabilizer for DSLR and mirrorless cameras. The 3-axis gimbal can help you shoot crisp photos and smooth video while on the move.

The Ronin-S comes in two frame sizes for supporting the two camera types. High-torque motors help the gimbal support many of the most popular cameras, including the Canon 5D, Panasonic GH, and Sony Alpha.
The Ronin-S can be mounted on an RC buggy or serve as a stabilized remote head on a jib. The separate DJI Focus Command Unit can be mounted to the accessory dock on the gimbal. DJI will also be releasing a dual-handle support for when you need extra comfort and stability.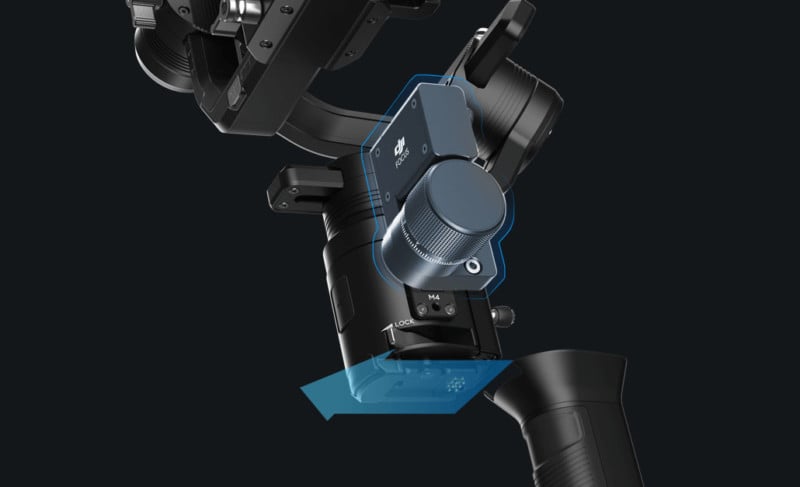 The gimbal's stabilization system is compatible with both in-camera and in-lens optical stabilization technology, and it compensates for zoom lenses with higher magnification ratios and an external zooming barrel.
It features a simple, ergonomic curved design and dedicated controls (buttons and a joystick) for controlling camera settings and positioning. While the gimbal is powered on, push mode allows you to adjust the pan and tilt axis by hand, and axis locks help make setting up the gimbal for use as speedy as possible.
A new Sport mode allows you to capture fast-moving subjects with "tight and quick" speed. Customizable SmoothTrack settings let you adjust the responsiveness of each axis.
The battery in the Ronin-S can be hot-swapped during operation, useful for when you're using the gimbal for longer periods of time.
Using the DJI Ronin mobile app, you can create advanced camera moves automatically — things like Panorama, Hyperlapse, Track, and CamAnchor. These help you choose specific camera positions in a scene and transition between them on demand.
Finally, the Ronin-S is compatible with a host of accessories in the DJI ecosystem, including "a Focus Control Center consisting of a focusing dial and a screen allowing advanced gimbal and focus control without a mobile device, a vehicle mount solution, DJI Master Force, DJI Master Wheels, an external focus motor, and a cheese plate adapter so you can use your favorite third-party accessories."
The DJI Ronin-S will be available in the second quarter of 2018 from DJI's website and authorized retailers. Pricing has yet to be announced.