Just another article about film photography? Well yes, but bear with me and hopefully you'll see why film really does still have a place in my heart and might have a place in yours too… even when digital is such excellent quality and so convenient.

We all know digital is great and has many advantages over film — I'm not disputing that and I'm not abandoning digital. In fact, I've now been shooting digital longer than I shot film (17 years digital vs 12 years film), and until the last year or two, I hadn't shot any film at all since going digital.
However, what I want to share here is how and why I returned to film and what I'm doing with it in the hope that if you're toying with the idea too, you might be inspired to make that leap.
I know how important it is to my professional development and personal sanity to shoot personal projects, but in recent years I'd struggled with the notion of shooting personal work and using the exact same approach, equipment, and editing workflow as I used for my paid work. It seemed inexplicably dispiriting and it was putting me off shooting anything other than paid work.
This had to change.
Then I picked up my old film camera again and something clicked (apart from the shutter on my ancient but trusty Canon EOS-1N). I still had my old film developing tanks, reels, changing bag, thermometer etc in the attic, so dug those out and bought black and white film and chemicals and started taking the occasional street portrait – smokers mainly because they're sitting ducks as they huddle in doorways during a crafty ciggy break. Then a neighbor offered me a good deal on his old Bronica SQA kit and I was hooked.
Now that I had invested real money, I felt I needed to do something with all this gear. At around this time I also got curious (I can't remember why now) about expired film and put out a call to my fellow photographers to see if anyone had a freezer drawer full of film they would like to clear out. Thankfully two came back to me and in return for donations to DEC and EPUK, I found myself in possession of two large carrier bags of assorted 35mm and 120 film.
What was important to me as I started shooting film again was that I wasn't going back to it purely for fun or just to take snaps. In particular with the expired film, it was important to me that I use it for a coherent purpose. Out of this was born the long-term project I've been shooting, focusing on an area of wasteland in my hometown. Using film which was going to waste to document an area which is going to waste, the images scanned on a scanner which was destined for the tip (donated by my Bronica-selling neighbor). The project has evolved into a hybrid documentary/art project.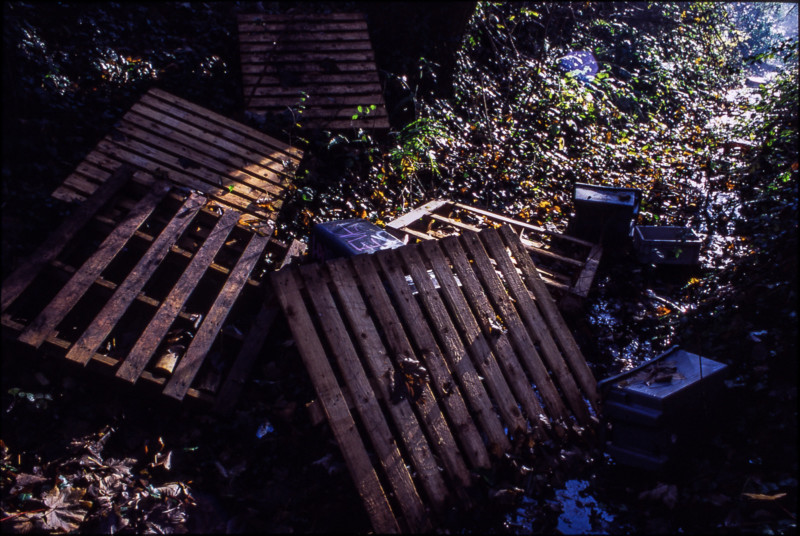 I've been visiting the site since early Summer 2017, posting the results as a set on Instagram and it's building up into quite a quirky body of work featuring the site, the junk people leave there, the interaction between nature and the manmade and how people interact with it as well as portraits of some of the people who visit or pass through.
It's been a challenge because I've been working with a broad mix of film stocks; black and white, color negative and transparency. From 64 ISO to 3200 ISO and even some East German ORWO 400 120 film dating back to pre-Berlin Wall era, which was so degraded the print on the backing paper showed up on the emulsion.
On some rolls, the degradation has led to some interesting effects. Thankfully, apart from a handful of films which were beyond being processed, I've managed to generate usable images from almost every visit I've made. In time I hope to produce an exhibition of the work (probably requiring better scans for a start), but that's still on the back burner at least until I feel the project is coming to an end. This could either be when the film runs out or the site gets developed.
What this foray into film has done is reignite my interest in documentary work and it's forced me, through the mixed bag of film stock I've been using, to remaster and broaden my techniques, understanding, and approaches to photography.
Shooting film has had an effect on my paid work too. A client saw one of my earlier sets of photos shot on film and asked I apply a similar vibe to their shoot. So while some people will view film fans as poseurs, hipsters or wannabe Don McCullins, to me it's another way of working and it's good for my sanity too.
Of course, I end up scanning the images, working on them in Lightroom and sharing them on Instagram and Facebook, but the process from capture to share is different enough to make it not feel like work so much as something for myself. It's a feeling I like very much.
If you're thinking of getting into film photography and you're not sure where to start, feel free to comment here and I'll do my best to help, as I'm sure will other readers too.
---
About the author: Tim Gander is a freelance corporate communications photographer based in Frome, near Bath, England. The opinions expressed in this article are solely those of the author. You can see more of his work on his website or find him on Instagram or Facebook.