Photos of Parkour Athletes in New York City Wearing Formal Wear
My name is Ben Franke, and I'm a photographer and director based in New York. For my new project Black Tie Parkour, I photographed two parkour athletes running around Downtown Manhattan while doing Parkour in formal wear.

I've been shooting parkour for over ten years, and the majority of parkour athletes that I've met in the community are men. However, there are incredibly talented women in the sport and I want to continuously highlight them in my work.
I had the opportunity to collaborate on a recent shoot with the extremely skilled Melanie Hunt, who has trained parkour for many years and has competed on American Ninja Warrior 5 times. I envisioned a shoot of her and another athlete wearing formal wear, to capture parkour in a way we haven't really seen before. We also brought on Jesse Danger from the Movement Creative to be a part of the shoot.
Aside from the athletes and their movements, the most important detail of the shoot were the outfits they would be wearing. We decided that a dress that flows well would be ideal for Melanie, something that would look gorgeous in the photos but would also give her the freedom to flip and jump. Melanie found her dress through Rent the Runway, while Jesse wore a classic suit that he happened to have.
As far as location, I wanted something that would fit the aesthetic of the wardrobe, and the Financial District in Manhattan was a perfect fit. When scouting, I was drawn to the grand architecture, marble, and density of tall buildings of the neighborhood and felt that it lent itself well to the formalwear concept.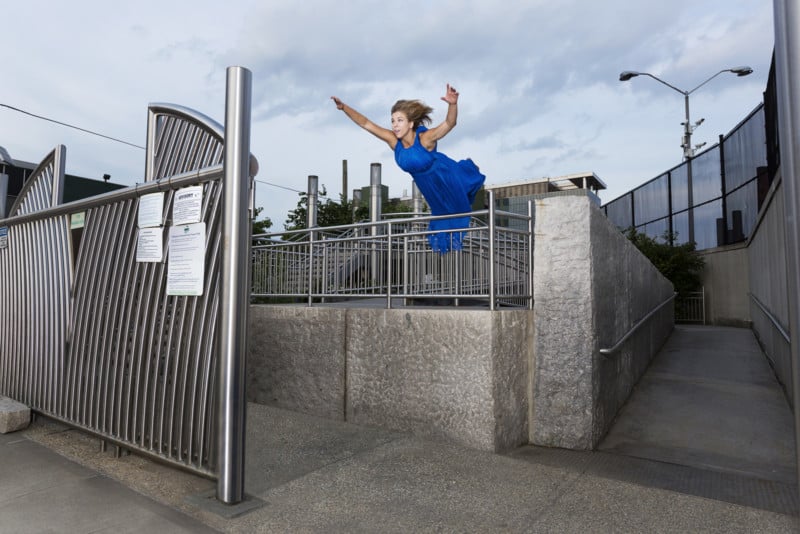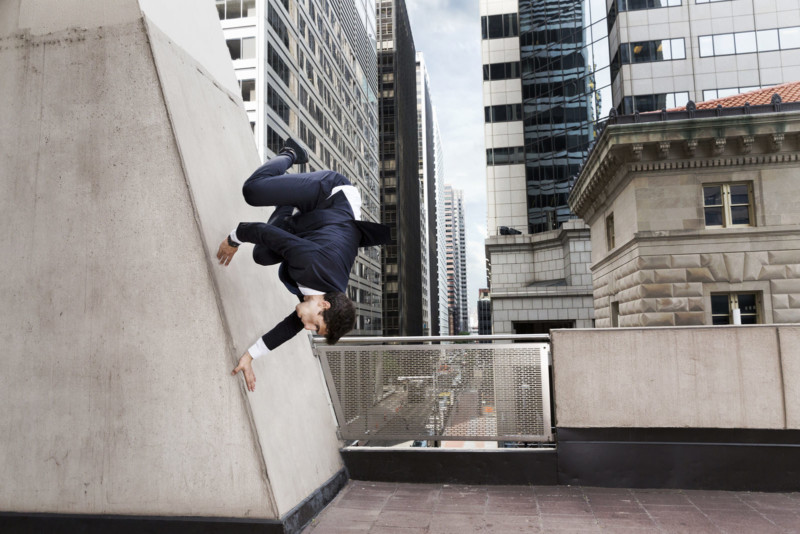 We didn't use much equipment for the shoot since we had to be mobile and couldn't carry around a ton of equipment. We had two crash mats for the athletes to flip onto for some of the shots and used one light with an umbrella to light the athletes. Without having permits, we were fortunate that day to shoot around the New York Stock Exchange with crash mats without anyone bothering us since for some of the shots we drew pretty big crowds who stopped to watch and take pictures.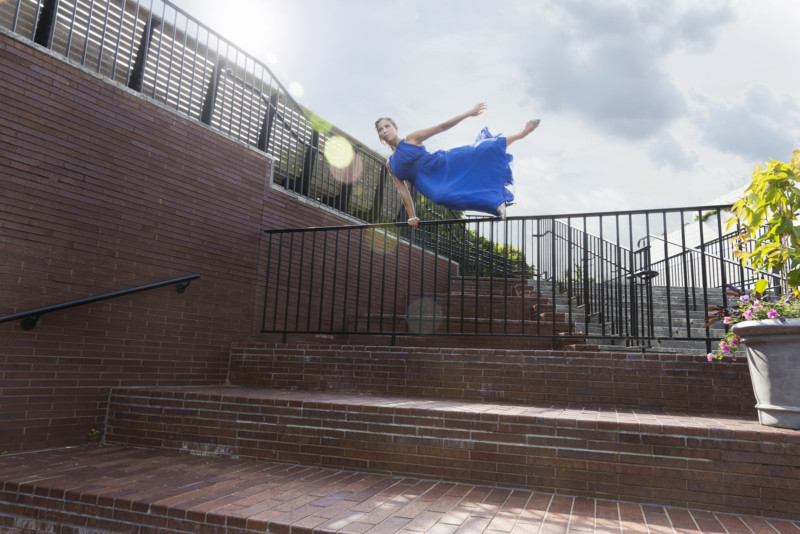 ---
About the author: Ben Franke is a New York-based German/American photographer, whose work focuses on movement across a range of athletic disciplines. Since 2008, Franke has been photographing parkour athletes, and began his on-going series "Parkour Motion" in 2012. With this series, he aims to capture the energy and power of parkour athletes' movements in a single still image. You can find more of his work on his website and Instagram.