Famous Greek Monastery Bans Foreign Weddings Due to One Raunchy Photo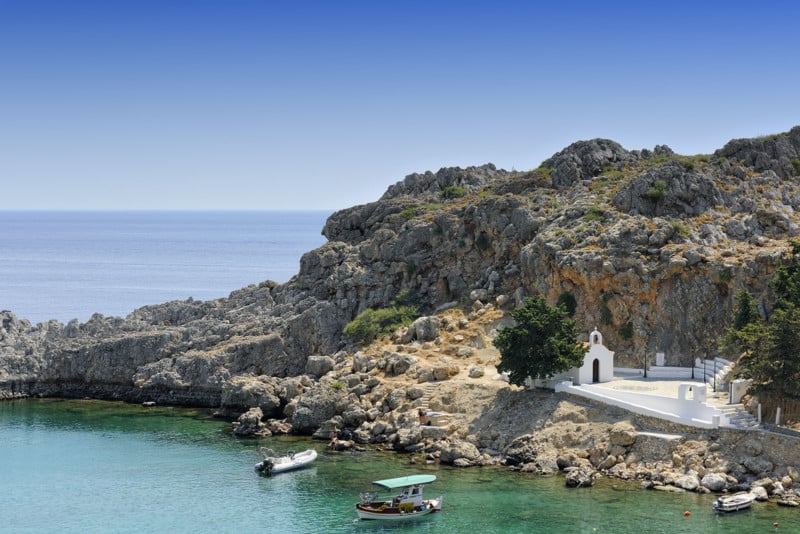 Foreign weddings are now banned on a famous monastery on the Greek island of Rhodes after a British couple decided to shoot a raunchy wedding photo and share it online.

Matthew and Carly Lunn (27 and 34, respectively) of the UK got married last month at the monastery of St Paul, one of the holiest sites in Greece and a popular venue for weddings.
Afterward, they decided to pose for a "cheeky" wedding photo showing Carly kneeling down in her wedding dress and pretending to perform a sex act in front of the sanctuary.
The couple decided to share the photo on Facebook to amuse friends and family, but soon the image went viral and spread across the Internet and in Greek television and newspapers. Church authorities were not amused.
The island's top bishop, Kyrillos of Rhodes, responded to the viral photo by issuing a ban of all foreign weddings at the monastery.
"Everyone is really upset," Giorgos Eleftheriou, the man who performed the wedding, tells The Times. "The British community that live here are embarrassed and upset, the Greek community are outraged and worried about the impact for their businesses.
"Shame on those two for the damage they have done. Would they have done the same in their homeland; in front of a British chapel, a Jewish temple, a Muslim mosque?"
The move could potentially disrupt the wedding plans of hundreds of couples around the world who had planned to tie the knot at the same location.
"I have hundreds of soon-to-be brides from Britain and all over the world calling me today in tears because of this decision," Eleftheriou tells The Times. "We are one of the most famous wedding destinations in the world and we are booked solid through to 2021.
"We are Greek and we cherish our traditions and the sanctity of our religious sites. We cannot allow this disgusting behavior to prevail."
The local area's economy is also highly dependent on weddings and the tourism money that comes from them.
"It was just a photo, we did it away from the guests and it was a bit of fun," Carly tells The Mirror. "We expected a lot of laughs and jokes from people, but didn't expect it to be as popular as it was. People back in England were commenting on it, the whole thing went mad.
Asked by The Mirror whether she had any regrets over the photo, Carly replied: "Not at all, it's a bit of fun."