Couple Does Wedding Photo Shoot 60 Years After Their Wedding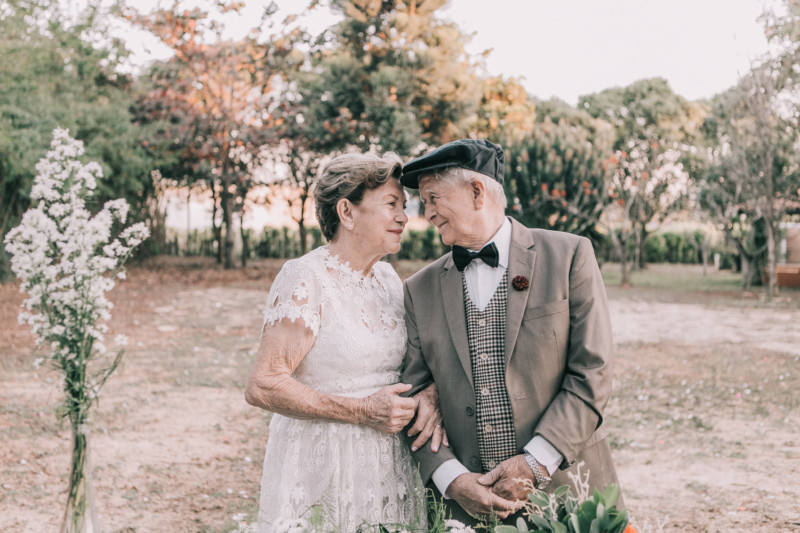 Wedding photo shoots usually happen around the time of a wedding ceremony, but a couple in Brazil is showing that it's never too late to create memorable photos for a lifetime. They just did their wedding portraits 60 years after they got married.

Rosa and Russo Dias tied the knot back in 1957 with a low-key ceremony and a tight budget. A grandfather arranged the backyard, an aunt baked a cake, and a godmother created a wedding dress. They didn't have a photographer present, so no photos exist of that special day.
The Dias' went on to have 9 children, 16 grandchildren, and 4 great-grandchildren, and this year they celebrated their 60th anniversary.
When São Paulo-based photographer David Balatonfuredi learned that the couple had never done a wedding photo shoot, he decided to help them celebrate their anniversary in a special way. Balatonfuredi teamed up with a group of vendors and gave the couple a special gift of a wedding photo shoot. They got dressed up and created new photos to remember that special wedding so long ago.
"We've shot a lot of couples, but they had a special glow and connection that gave us so much hope," Balatonfuredi tells HuffPo. "They represented what an ideal marriage and partnership should be about, [they were] really nice and patient to each other."
---
Credits: Celebrant: @pais_em_paz, Location: @chacaraterraprometida, Decoration: @vai.peralta, Beauty: @corealmaoficial, Brides Dress: @rcamposatelier, Grooms Outfit: @villaroma.limeira, Bouquet: @grabarriviera, Photography and Film: @saopaulofotografia and used with permission