Pixelmator Pro to Feature AI-Powered Photo Editing Features
Pixelmator is an image editor for macOS that launched back in 2007 and has since grown into a formidable alternative to Adobe Photoshop in a previously untouchable domain. Now the company has just announced a Pro version of its software, which is set to be released this fall.

On the surface, Pixelmator Pro has a completely redesigned interface that aims to reduce the clutter. The company says it is "designed exclusively for working with images", and it puts the image front-and-center, eschewing the floating windows of its predecessor for a streamlined and unified display.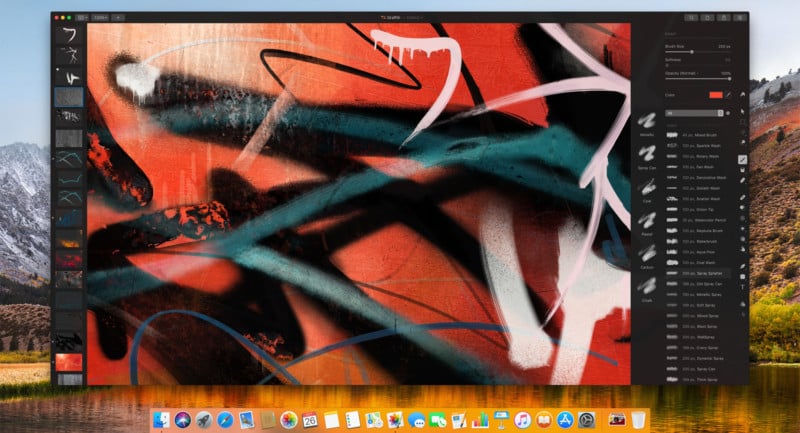 Unlike Photoshop, Pixelmator Pro is fully native to macOS, meaning you get all of the niceties that the operating system brings: built-in versioning, split view, iCloud support, native tabs, touch bar support, and trackpad force touch.
The team has taken advantage of macOS' Metal 2 to improve GPU utilization, and Apple's CoreML framework to introduce AI machine learning features to the software. This enables things like automatic layer naming based on content, automatic horizon straightening, more intelligent selections and a Repair tool to remove and replace sections of your image (think Photoshop's Content-Aware Fill).
Pixelmator Pro allows full RAW editing and adjustments with nondestructive edits, but it lacks the library management tools of Lightroom. It also includes what the company calls a "cutting-edge painting engine", allowing for brush painting that is "staggeringly responsive, fluid, and natural".
Here's a short video introducing the upcoming software:
The software will be available this fall, with the price yet to be announced. It's not clear whether the original Pixelmator will run alongside the advanced Pro version, but the former is currently priced at $30 on macOS. Pixelmator Pro will also be released on the iPad sometime after the macOS launch and will be competing heavily with Affinity Photo for the iOS photo editing crown.
You can find out more about Pixelmator Pro on the extensive launch website that has just gone live.