Happy 100th Birthday, Nikon!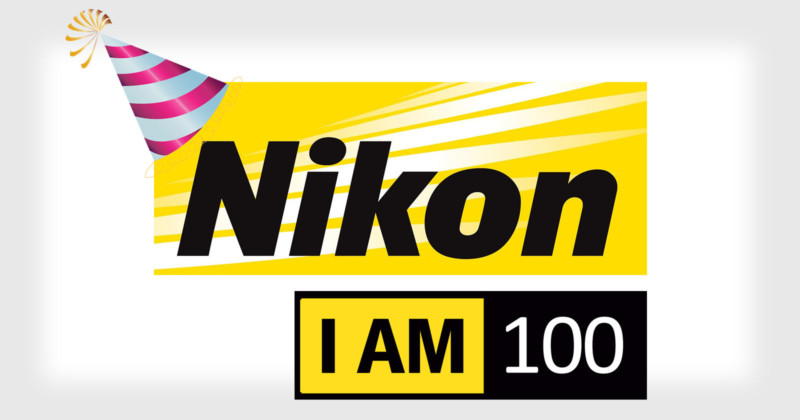 Nikon turned 100 years old today. It's a huge milestone for a company that was born back on July 25th, 1917, as an optics company based in Tokyo, Japan. One century later, the company has become one of the world's dominant and beloved brands in photography.

Here's what Nikon president Kazuo Ushida had to say today:
Today, Nikon celebrates the 100th anniversary of its establishment. I would like to express my sincere appreciation to all of our customers who use our products in their everyday lives, and the stakeholders who have supported our businesses, from the bottom of my heart.

For the past 100 years, consumer demand has called for convenient products that enhance daily life, and Nikon answered with its manufacturing skill and knowledge. However, society and consumer needs are rapidly changing today. We would like to effectively respond to these needs with the world's highest-class opto-electronics, precision technologies and solutions.

The difference from our past strategies is that we will offer not only products, but also ideas and solutions as well. Nikon will be reborn as a solution company providing superior technologies and ideas, holding "light" as our core competency.

Since the company was established in 1917, Nikon has cultivated its status as a pioneer of optical technologies in Japan and overseas. Guided by our corporate philosophy of "Trustworthiness and Creativity," we provide a wide range of technologies, products and services globally by harnessing our advanced technologies, the core of which encompasses opto-electronics and precision technologies. We are proud to celebrate our 100th anniversary on July 25th 2017, and have adopted a new vision for the future in this anniversary year.
It's a very optimistic statement for the future of Nikon. Ushida clearly recognizes the big changes happening in the photography industry, and perhaps Nikon will soon provide a satisfactory answer to the cries for innovation that photographers have been making as of late.
After all, the company has just announced that the Nikon D850 will be coming this year, and that it's developing a new mirrorless camera that will "raise the bar".
Nikon has spent the last 100 years developing, innovating, and pushing the photography industry forward. Despite criticism that they are falling behind in the modern-day, it's worth remembering that they helped lead the charge into the digital camera world back in 1999 with the release of the Nikon D1.
It was the first digital camera entirely developed by a major manufacturer, and it helped to reshape photography as we know it.
A Snapshot of Nikon's Beginnings
Nikon was established on July 25th, 1917, when three major optics manufacturers merged to form its first incarnation: Nippon Kōgaku Kōgyō Kabushikigaisha.
It never intended to start as manufacturer purely of camera equipment — the firm also created optics for things like microscopes and weapons sights for use by the Japanese military in World War II.
In 1929, it produced its first lens: the Anytar 12cm f/4.5. Further lenses were developed, and Nikon realized the potential of the industry. Subsequently, in 1932, the brand name Nikkor was established for the manufacturing of lenses and registered as a trademark. Nikkor was a westernized version of Nikko, an earlier brand that was an abbreviation of the full company name.
Discussions of developing compact cameras begun soon after, and Nikon looked for a brand name for this arm of its business. In 1946, "Nikon" as we know it was brought into existence. 1948 saw the release of its first camera, the Nikon Model I, and the rest is, well, history.
Feeling Nostalgic?
Nikon has uploaded a number of birthday videos that might just bring a tear to your eye. Grab your trusty Nikon DSLR and hold it tightly whilst you indulge in some camera-goodness:
Happy birthday, Nikon!