Wacom Announces a Gigantic 32-Inch Cintiq Pro Graphics Tablet
Wacom today announced that it will be expanding its Cintiq Pro lineup with two new graphics tablets. They're designed for photographers, illustrators, and graphics designers who want a larger digital canvas than has been previously available.

The two tablets will have edge-to-edge glass screens that measure 24- and 32-inches in size, greatly expanding upon the currently Cintiq Pro lineup, which only has 13-inch and 16-inch tablets.
Here's a graphic showing how the new tablets will compare in size with the existing ones: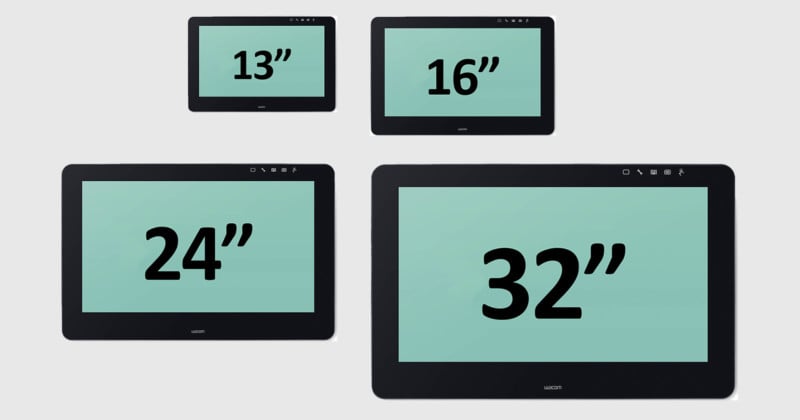 The upcoming tablet displays will be 4K with one billion colors and "maximum color accuracy" — the existing 16-inch tablet offers 4K resolution as well — and will have Pro Pen 2 technology. That's a stylus with a whopping 8,192 pressure sensitivity levels.
At $2,000 and $3,300, they will naturally be the most expensive options in the Cintiq Pro line-up — the current 13- and 16-inch versions cost $1,000 and $1,500, respectively.
The rest of the details remain to be seen. Wacom has made the announcement early, with the promise of releasing behind-the-scenes content and other product teasers over the next 6 months. The new tablets should arrive sometime in early 2018.