Photographer Souvid Datta Appears to Have Plagiarized Mary Ellen Mark
The award-winning photographer Souvid Datta found himself in the middle of a controversy this week when his photo of a young sex trafficking victim was used to promote a photo contest. But now a serious new accusation has emerged that threatens Datta's credibility as a photojournalist: one of plagiarism.

After reading Benjamin Chesterton's
coverage of the LensCulture contest controversy
, Shreya Bhat of Bangalore, India, reached out to PetaPixel with something she had first noticed back in 2014.
At the time, one of Datta's photo projects was receiving widespread attention in major publications. Titled "In the Shadows of Kolkata," the photos documented the cycle of sexual violence among adult sex workers and children in Sonagachi, Kolkata, India — Sonagachi is one of the largest red light districts in South Asia.
When viewing the series at the Huffington Post, one particular photo caught Bhat's eye:
While the HuffPo photo didn't have a caption, the same photo was published in a photo essay written by Datta himself at the Scribbler [Update: The photo has been removed, but luckily we got a screenshot], and Datta did include a caption there. It read:
Radhika, 17, in the room of a veteran sex worker, Asma, in Sonagachi (featured dressing in background). The two have grown close over Radhika's period here; she respects and learns from Asma's experience and matter of fact, survival attitude, while Asma feels a fondness for Radhika's unfettered 'kindness, curiosity' and innocence. Strong bonds can often form within brothels as girls learn to support each other and find self-empowerment through group assertion and collective experience.
So Datta is claiming that the woman getting dressed in the back of the room is a "veteran sex worker" named "Asma."
While most viewers may not think twice about the credibility of the photo or caption, Bhat is a huge fan of the late renowned documentary photographer Mary Ellen Mark, who also photographed the red light districts of India back in the 1970s. Bhat realized that there was a strange similarity between Datta's photo and one particular shot in Mark's project, Falkland Road (warning: mature content).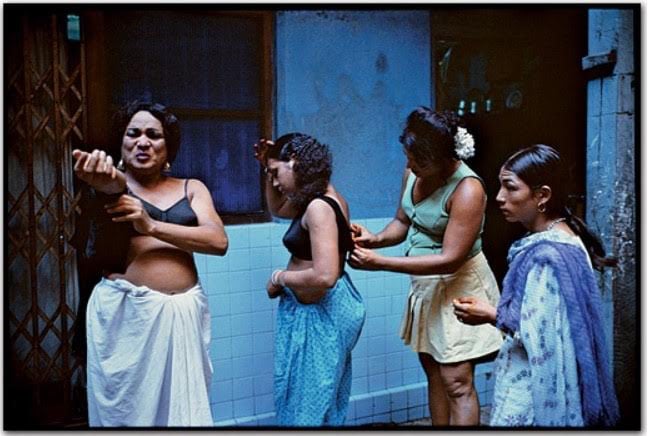 "Something was strange and it honestly did not take me long to figure that a part of the image had been Photoshopped out of Mary Ellen Mark's work," Bhat tells PetaPixel. "I just rubbished it off thinking it's a juvenile photographer nicking the work of someone legendary."
Bhat serves as a social worker who works with women in sex work. She was based in Sonagachi in 2014, but now works in Bangalore.
"Mary Ellen Mark for me is legendary for the time she's spent with women in sex work in my country," she says.
Here's a side-by-side comparison of the subject in Mark's photo and the subject in Datta's shot:
And here's a second comparison with Datta's subject flipped horizontally and auto-aligned with Mark's in Photoshop:
"You can see for yourself how neatly (or not) he has managed to pick the lady in the backdrop off Mary's legendary work and claimed it as a part of his own composition," Bhat says. "It takes someone who has trawled through plenty of Mary's work to spot the glitch."
Over the past several years, Datta has collected a number of prestigious awards and grants in photography. They include the PDN 30 in 2017, the Pulitzer Centre Grant in 2016, the Getty Grant for Editorial Photography in 2015, PDN Annual in 2015, and Magnum Photos 30 Under 30 Award in 2015. He's also one of the 12 contestants on this year's "Masters of Photography" reality TV show by Sky Arts.
We've reached out to Datta for comment but have yet to hear back. It appears that his website, Facebook and Twitter were all taken down after our requests. We'll update this post if/when he does provide an response.
---
Update on 5/4/17: Photographer Daniele Volpe is now accusing Datta of passing off two of Volpe's photos as his own. Volpe says that last November, he was alerted by a friend that Datta had posted the photos to Facebook: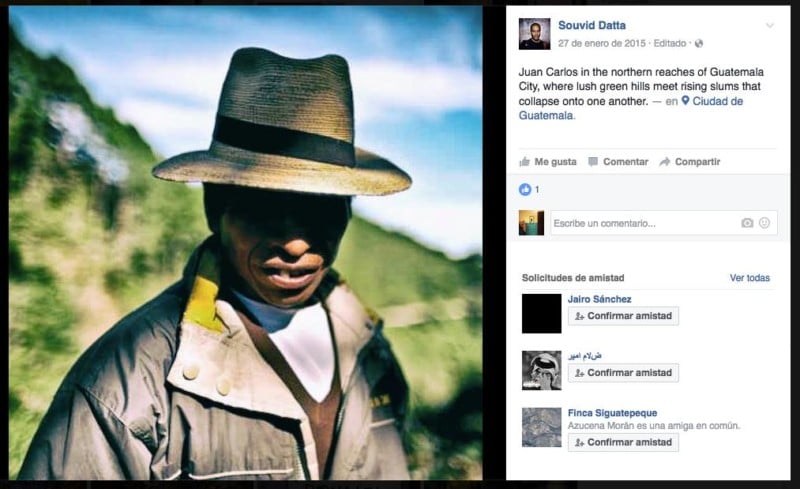 "I took the picture of man with hat in a remote mountainous region of north Guatemala, not in a Guatemala City's slum as Datta said," Volpe writes. "He is a genocide survivor and this picture is part of a short coverage I did in 2010. The photo of the man with weapon is in my Instagram feed."
We've reached out to Datta for comment regarding these latest accusations as well and will share an update if he responds.
---
Update on 5/4/17: Souvid Datta has responded, but in an interview with TIME. He admits that he doctored photos and infringed on other photographers' images.
"When the girl's mentor asked not to be photographed, he cloned out a subject from a photograph by the legendary Mary Ellen Mark and pasted it in his own photograph," TIME writes. "When he uploaded the image to his blog, there was no indication that the work was not entirely his own. That moment was, he now reflects, 'the damning mistake.'"
You can read the full interview with TIME here.
---
Update on 5/4/17: Here's a statement put out by the Alexia Foundation, which awarded Datta an Award of Excellence Grant in 2013:
---
Update on 5/4/17: We've published an article with Datta's admission and the latest developments.
---
Update on 5/9/17: College Photographer of the Year (COPY) has rescinded the prize it gave Datta:
"After recent accusations and Souvid Datta's admission of digital manipulation and misappropriation of other photographers' work, CPOY has rescinded his 68th CPOY Award of Excellence in the Documentary category," the organization writes. "Over the three years that he entered, Datta received three additional awards, which are currently under investigation."