The Russian Photographer Who Shoots Dreamlike Portraits with Real Animals
Moscow-based photographer Olga Barantseva has built quite an oeuvre of mesmerizing imagery consisting of models posing with animals such as bears, wolves, raccoons, ostriches, owls, crocodiles, and snakes.

Watching a small, fragile human kissing or riding on the back of a 1,500 lb., 7-foot-long brown bear is jaw-dropping at first sight. But don't be alarmed, as this is one of a kind bear, Stepan, and the scene is a photographic fairy tale.
Hunters rescued him when he was a starving and orphaned 3-month-old cub. He was then raised by his owner, a circus trainer. Once he had grown up, he was too domesticated to be released back into the wild.
Today, Stepan the bear at age 20 has been an actor in 20 Russian movies and is an in-demand photo model. His diet consists of fish, vegetables and eggs. Stepan loves interacting with humans and even posing for photos. However, some mozzarella and sweet cookies make him even more cooperative and he opens his mouth wide to show his wild side.
He has even performed (we don't know under whose authority) a wedding ceremony (see pic below) where he declared the couple to be man and wife!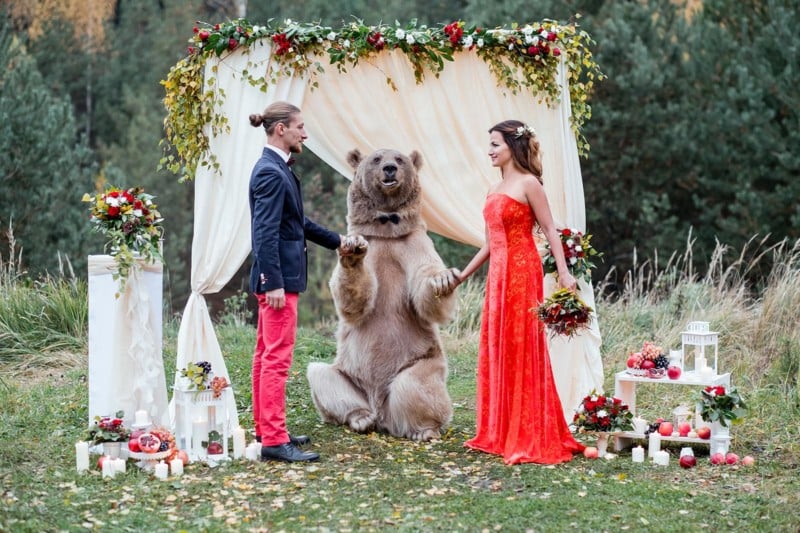 Barantseva, a portrait photographer, grew up loving nature and wildlife. She took up photography in 2007, and in 2012 she decided to combine her passions by photographing models with wildlife in a forest near Moscow. She also loves the vintage look and fairy tales, so you will see both in her imagery. All her portraits are captured with natural light.
We have to caution all photo enthusiasts that, these images were taken in very controlled situations. PLEASE do not try to take selfies with bears or any other wild animals as they can act unpredictably fast for any human to take evasive action.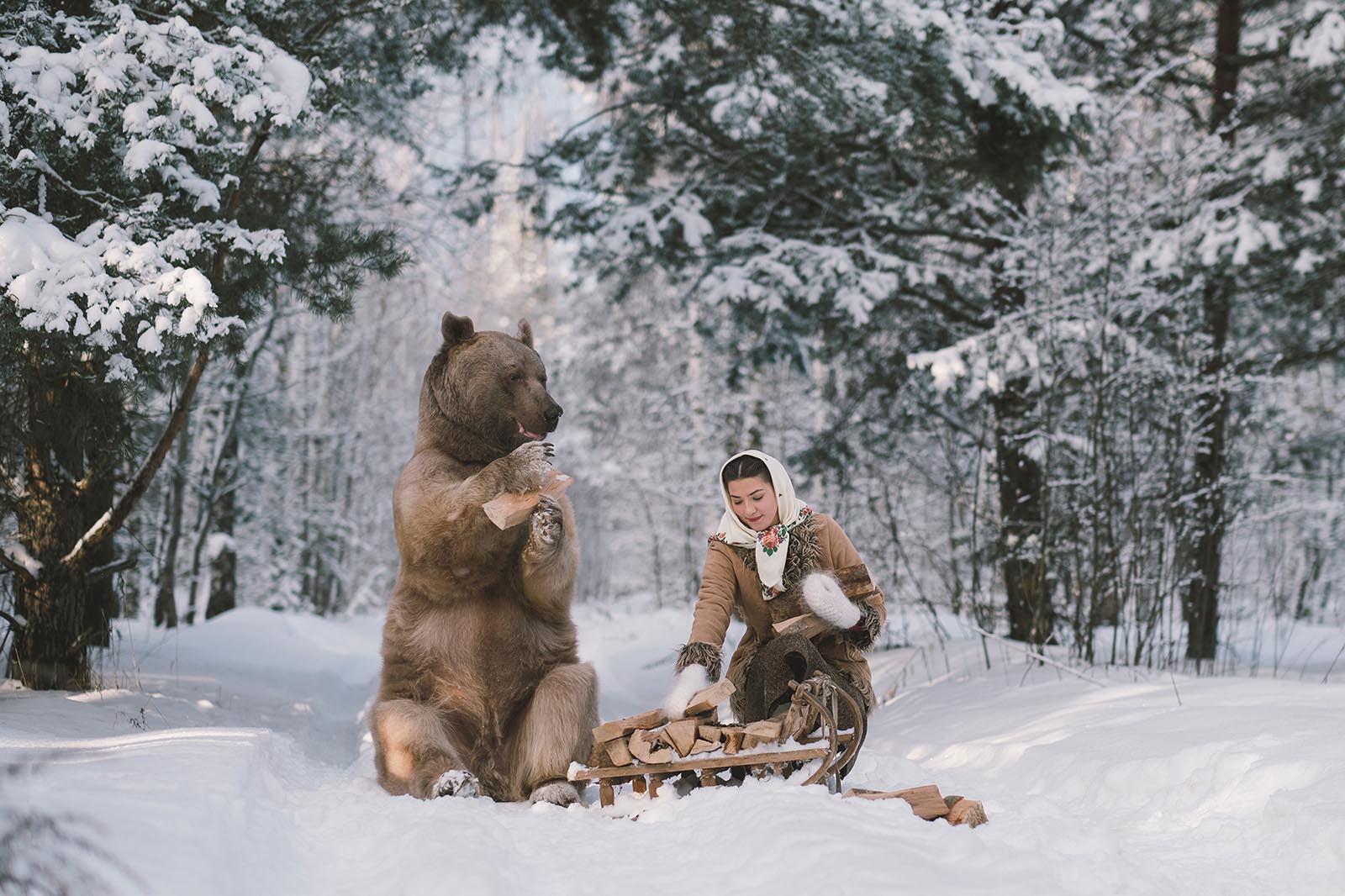 Barantseva says that most of the animals she photographs already regularly appear in movies and photo shoots.
"Photo sessions with animals have become quite popular," she tells PetaPixel. "Almost any animal or bird, or even a reptile can be found on rent for photography and a lot of photographers use them. I'm no exception."
"Mainly I'm interested in creative portraits," Barantseva says. "I have an interest and passion for creative photography. The most important thing is the idea, not Photoshop."
"It is impossible to combine the bear with other animals," says the photographer. "The wolves can take part with the other animals in the same shot. We can also shoot combined photos with foxes, owls and ravens."
Barantseva says she would one day like to hold art exhibitions of her work, but due to the costs involved, she hasn't had opportunities yet.
"I would like my photos to tell about the peace and interaction with the world," Barantseva says. "There is always a place of kindness and love!"
"My love for fairy tales and faith in unicorns appeared from childhood and grows into a magical world with its own atmosphere and harmony, which I'm trying to show in my photos. I'm trying to fit the whole story in one photo."
You can find more of Barantseva's work on 500px, Facebook, and Instagram.
---
About the author: Phil Mistry is a photographer and teacher based in Atlanta, GA. He started one of the first digital camera classes in New York City at International Center of Photography in the 90s. He was the director and teacher for Sony/Popular Photography magazine's DigitalDays Workshops. You can reach him via email here.
---
Image credits: Photographs by Olga Barantseva and used with permission.