Using Dichroic Materials for Art Photo Shoots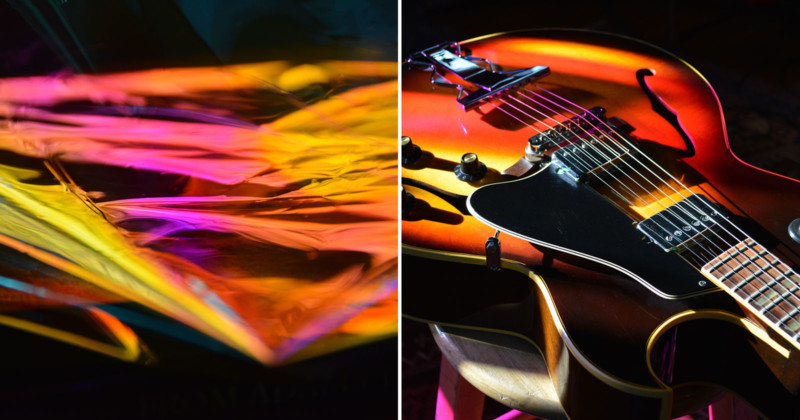 I came across dichroic film years ago while researching materials for an art lighting business, Lightlink Lighting. The color changing properties of this material was so inspiring I ended up creating new lighting designs based on it.

Dichroic — from the Greek meaning "two-colored" — film comes in at least two versions: a heavyweight clear vinyl that reflects and filters light in the blue/green/magenta/indigo range and a lighter weight version that reflects/filters light in the magenta-gold range, as seen below.
Being both a mirror and a filter, dichroic film can be used to bounce multi-colored light, as well as re-filtering it against itself. So unique and complex effects can be achieved by layering it against itself and other optical and lenticular materials like lenses, mirrors, prisms, lasers, fiber optics, perforated metals/wire cloth, diffraction gratings etc.
Aside from the lighting, one of the first photographic enhancements came as an accident in the form multi-colored gels, which add unexpected tonal range and drama to materials like the wood in guitars, as seen below (Magenta/gold film in the sunlit window was used in both compositions):
The number of uses in photography is only limited to your imagination. Here it's used in various versions of the art lighting, which led to the photography in the first place:
So, those are just a few examples of how the film reacts with passive sunlight, LED, Fiber-optic and incandescent light behind it. What else can you do with it? Next it's used in the form of a gold-coated glass diffraction grating to split the light across the water in the bowl.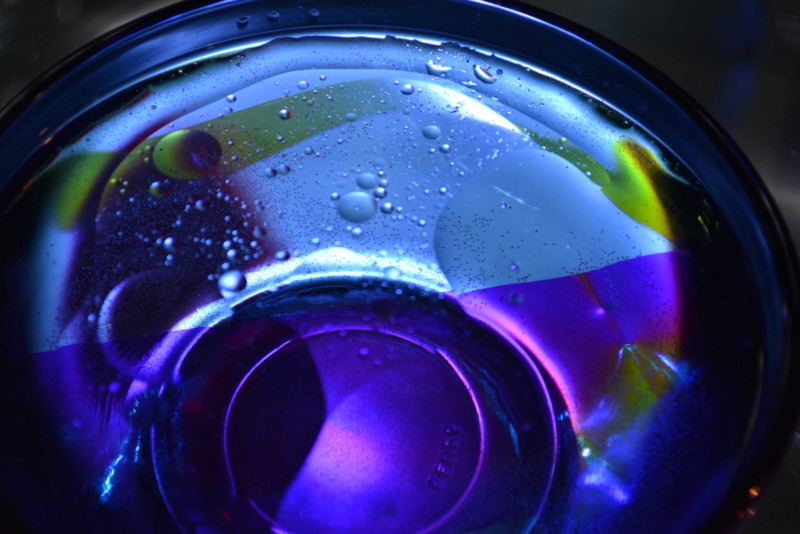 You can actually see the film (purple + olive gold strands) filtering the sunlight as it hits the oil and water in the bowl above.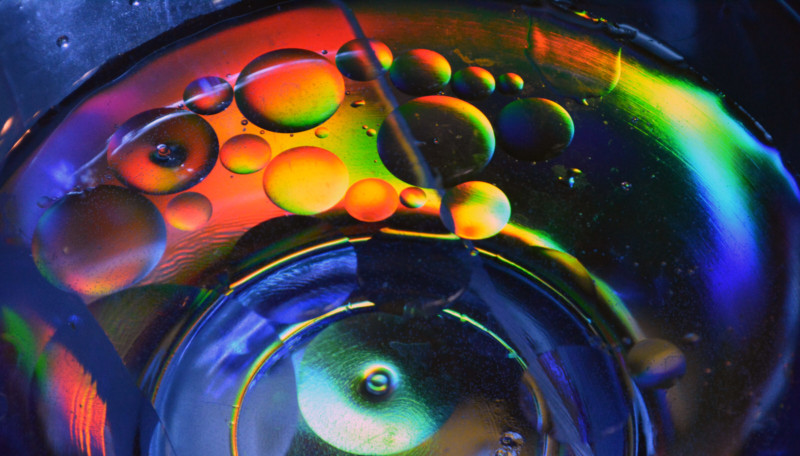 Above is just a large sheet of the magenta/gold film in the window tinting late afternoon sunlight as it hits a bamboo mat, giving it a bit of a Zen-like feel.
Below is a projected abstract created with reflected sunlight from hitting two layers of different dichroic film types at the same time. It's not a double exposure. You can easily create an entire series of these type images with minimal materials and space.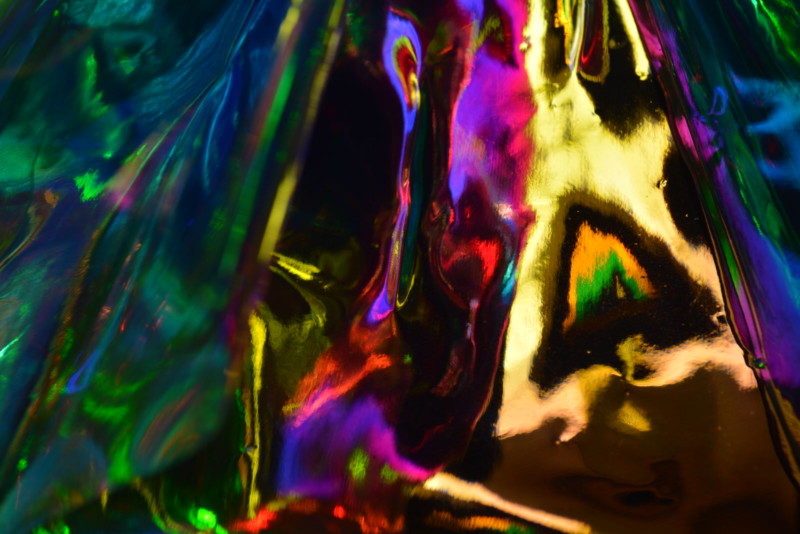 The last image is my favorite model playing around, being mysterious with a strip of the film during a glam shoot last Fall.
Dichroic film and diffraction gratings are just two optically enhancing materials you can use in a myriad of ways on all types of shoots. They enhance the subject, alter the mood, color or implied texture, or they can be the subject itself.
One way to explore this world is to just start collecting as many types of these materials as possible and when inspiration strikes and the light is right take one or a few of them and try whatever idea comes to mind.
---
About the author: Mike Brannon is a well-published, award-winning guitarist/lighting artist/writer/ photographer, and apparently likes slashes, nature and anything to do with guitar or light. You can find his photo work here, lighting design work here, music here and here, and writing at EnLIGHTenment, AllAboutJazz.com, Vintage Guitar and Jazzreview