That Crazy Instagram Copycat Story Might be a Big Fat Hoax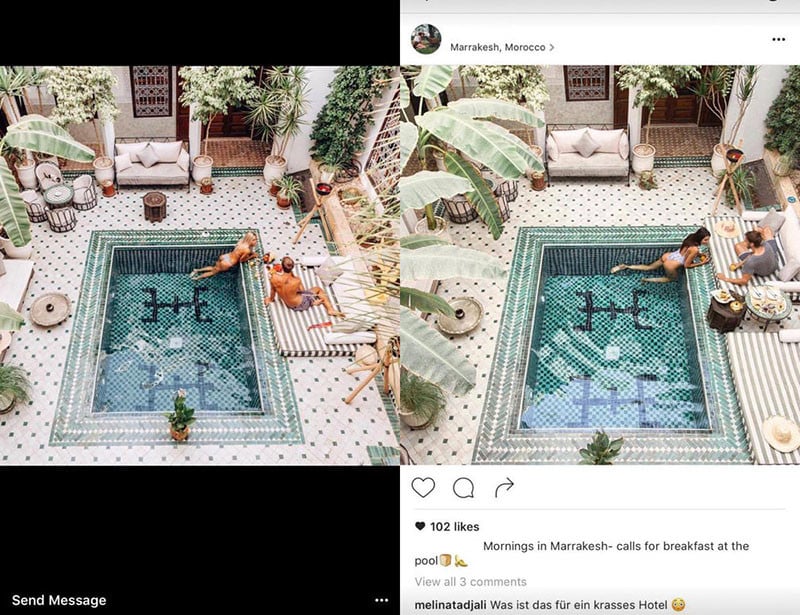 Last week, we shared the unbelievable story of travel blogger Lauren Bullen, who discovered that one of her fans had been following her and her boyfriend around the world, copying every photo they posted down to the outfits she was wearing.
It was incredible, mind-blowing, and more than a little creepy… it may also be a big hoax.
In an expose published by Business Insider, the publication points out several reasons why people should seriously doubt the veracity of this story.
The first few reasons listed are logical, but nowhere near "smoking gun" status. The original blog post about the copycat has been removed, restored, and now removed again; Bullen refused to put BI in touch with Diana, the copycat with whom she had allegedly patched things up; BI has been unable to find Diana on their own; and it seems somewhat unreasonable, if not crazy, that someone without a substantial following would invest the time and money required to recreate these images.
BI also pointed out that the outfits fit the two women in the photos differently, implying that "Diana" and Bullen might have been traveling together, swapping outfits and taking photos at the same location.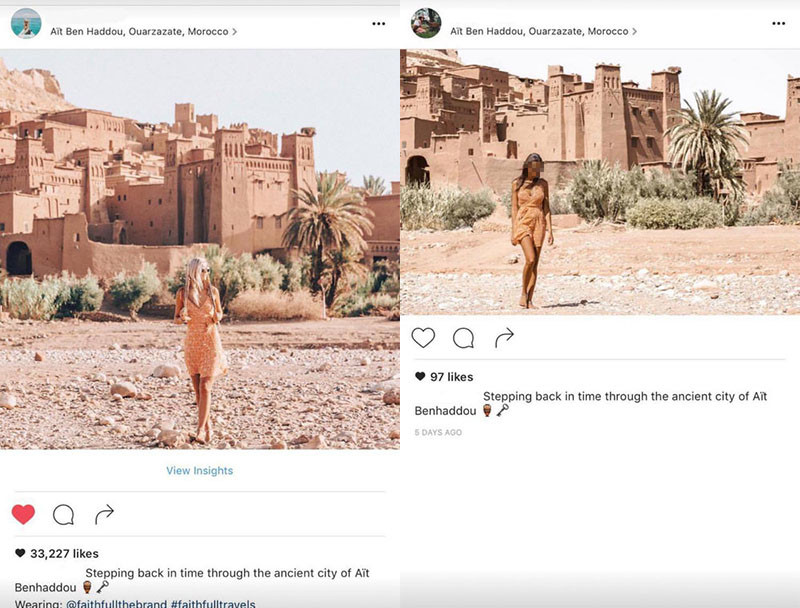 That's the circumstantial evidence. Interesting, sure, but not entirely convincing. The convincing evidence comes in the form of a cached Twitter bio uncovered by some online sleuths.
By Googling "diana_alexa" and "gypsea_lust," they discovered a cached version of one Diana Alexa Twitter account that lists Bullen's email and Instagram/snapchat username in the bio.
That is the kind of damning evidence that demands to be addressed, which is why we've reached out to Bullen for comment. We'll update this post as soon as we receive a response.
If it turns out to be true, this will remain one of the craziest photography copycat stories we've ever heard. But for now, it looks increasingly like brilliant (if diabolical) self-promotion that has gained Bullen over 200,000 more Instagram followers… many of whom will never read this story.
---
UPDATE: We've received a response from Bullen, reprinted below:
You search two Twitter account names and you get information from two Twitters… that's as simple as I think it is. Her Twitter is from 2011, mine's from 2015, so explain why I would have made that in 2011? It doesn't make sense does it?
None of these conspiracies add up.
Like this one about how Diana is actually Alyssa Lynch:
See the comparisons? I don't…
I shared this on Instagram stories, I never wanted or expected media attention. I already had 600K, why would I be so hungry for an extra 200k when you wouldn't even ever imagine that this would gain you following?
I worked so hard for years to get where I am, why would I risk loosing it all for an attempt to gain some extra followers. That would be stupid.