Yangon Myanmar is the New Cuba for Street Photography
Cuba has long been the go-to location for iconic street and travel photography—its combination of tropical beauty and crumbling textures mixed with a festive population is photo gold. The trouble is, with the recent influx of tourism the floodgates of photographers has opened and it is becoming harder to get that truly unique image.
Anyone that has wandered the streets of Havana has run into the "professional" photo models: that perfect crone with the huge cigar and the 50's dress on the brightly painted stoop charges you a dollar for the same photograph that a million others have shot. What is the traveling photographer to do? Well… travel of course! And I'll tell you where I'd suggest.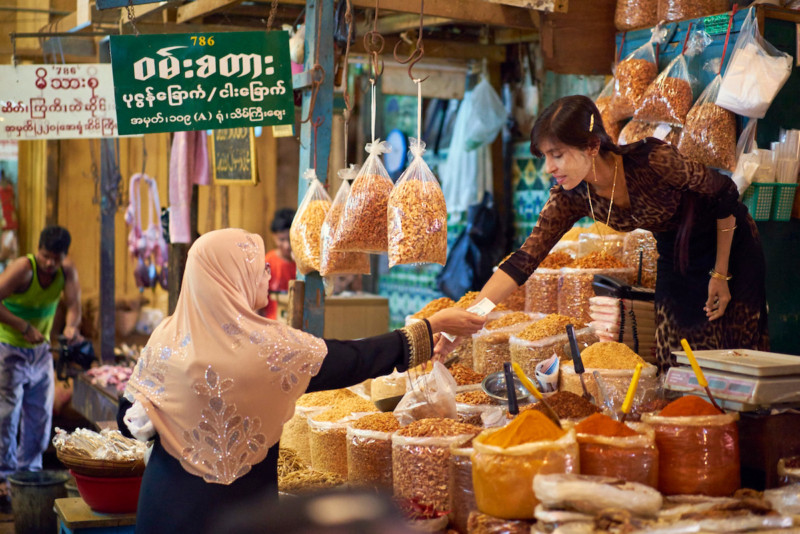 Yangon, Myanmar is the new Cuba for photographers.
There are a great many similarities between the two countries including a failed political system in need of reform, crumbling colonial architecture, and a previously isolated population—but Yangon has the perfect storm of assets that makes it the new, ultimate photo destination.
Imagine skirt-wearing men with thanaka painted faces and teeth stained red with betel nut strolling through a street market full of goat heads and you get the basic vision, but what makes it a great destination for photographers is more than simple scenery. Here is what makes it so special.
The background of Myanmar is simply amazing. Any photographer worth her salt knows that a good background is essential to capturing a decent travel photo. The dilapidated British colonial buildings, spindly strangler trees, and weird Burmese signage mixed with ancient buses and gleaming gold stupas easily best the '55 Chevys in Havana any day of the week. It is almost a matter of framing a cool background and waiting for a subject to walk into the shot.
For example I spent an hour or so on the riverside in Dala, trying not to slip in the mud while taking photos of men repairing hand-painted riverboats. I swear, the boat from Fitzcarraldo was just behind the perfect set of beached boats with the skyline of Yangon in the background.
The scene was perfection. It was almost too easy to wait for the man working on the boat to pop his head up as I hit the shutter over and over again in a photographic version of whack-a-mole.
The mobile device is unusual for the Burmese; Internet is very new to Myanmar, and much of the population cannot afford the luxury… yet. That means the people are not self-aware in the way that camera-means-photo-on-Facebook-for-the-world-to-see kinda way.
Social media has made the connected world shy—or at least highly aware of being photographed by strangers—and devices have made us more socially isolated. Look around at any public space in the West and notice the death of boredom. People just don't seem to engage with the world when they are preoccupied with constant communication.
Without devices, people still experience boredom. Bored people look around, engage, and are socially interesting. We find it hard to remember that time not long ago when we were more anonymous, and our public life and persona did not necessarily follow us around like a digital shadow.
The Burmese have none of these hangups just yet. In general they love being photographed, and will even hold up their children and encourage them to smile so that they can be photographed as well. They don't find the camera threatening. They find it absolutely fascinating that someone would be interested enough to photograph them going about their daily lives.
This girl with the painted face on the train thought that I was hilarious for hanging precariously halfway out the window of the moving train car just to snap a photo of her.
Best of all, the Burmese people are naturally friendly, and many speak basic English. I seriously have never felt so welcomed by strangers anywhere in the world before. When my wife and I decided to get haircuts at the makeshift barber shack next to the train tracks, the whole neighborhood showed up and made an event out of it.
They took some photos of us, and we took some photos of them and everyone had a fine time.
When we sheepishly walked into a Buddhist monastery, we were greeted with food and drink and shuttled upstairs to see a beautiful library of texts printed on bamboo fans, where I photographed a monk who would teach me walking meditation the next day. Amazing. The people here treat you like honored guests.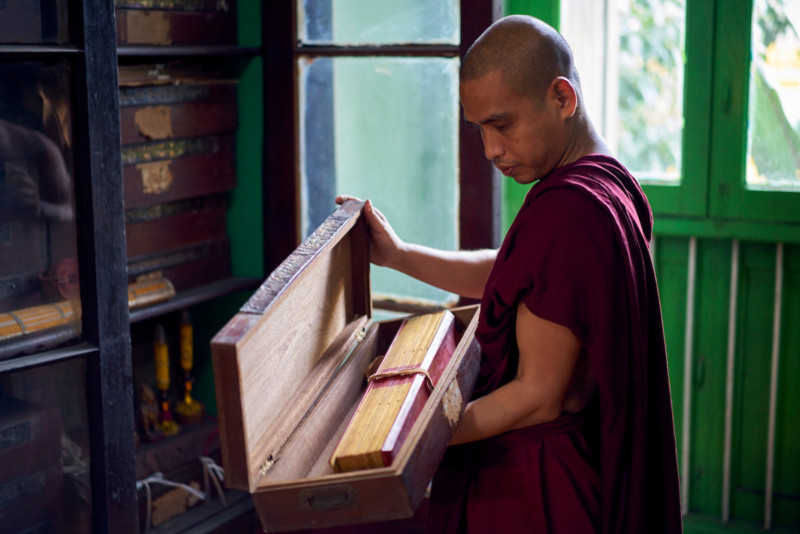 I spent an afternoon playing a game where I would smile and hold the gaze of a complete stranger until they smiled back. Every single person smiled back with genuine enthusiasm, and aiming a camera at them did not in anyway diminish this. The Burmese are beautiful and not at all camera shy.
Myanmar has a huge and diverse culture—one minute you are photographing a line of barefoot novice monks with alms bowls outside of a dilapidated imperial building, and the next you slip inside an ornate Hindu temple for a Vedic fire ritual where a priest is tossing clarified butter and aromatic seeds into a blazing inferno.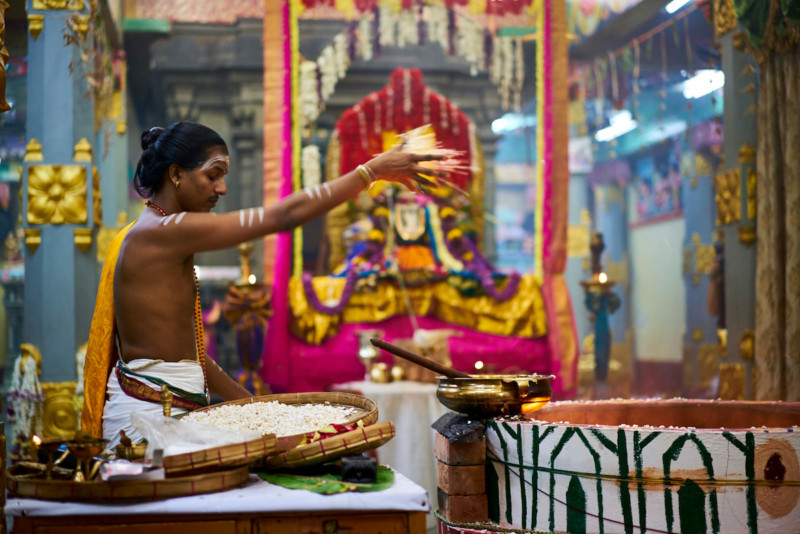 The proximity of Myanmar to India, China, and Thailand makes for a potent mix of intensely colorful cultures, and the fact that the Hindu priest is totally cool with you taking a thousand photographs of the Homa ceremony makes it almost too easy to come away with vivid travel images.
Then the priest invites you to a party where you can play drums with 20 other sweating men for hours and they feed you amazing food until you can't take another bite. Heaven.
---
About the author: Sean Davis is a Tamarindo, Costa Rica-based travel photographer specializing in location portraiture, architectural photography, food photography, and aerials for advertising, editorial, and corporate clients. You can find more of his work on his website, or by following him on Facebook and Instagram.