Photographer Invites Black Metal Band to Join Romantic Engagement Shoot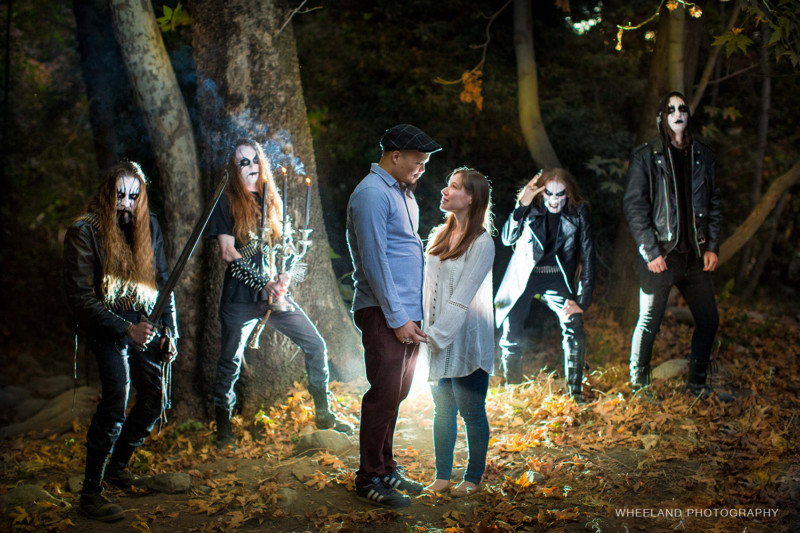 "When you run into a black metal band in the woods during your Engagement Session," writes photographer Janet Wheeland, "you ask them to join in!!" And that's exactly what she did, striking viral gold in the process.
Wheeland was in the middle of a romantic engagement session with betrothed couple John Awesome and Nydia Hernandez in the middle of the woods of Holy Jim Canyon, California when they ran into an unexpected bunch… the black metal band Coldvoid.
The band was there for their own photoshoot, and an opportunity presented itself. Now, this combination—dapper couple holding each other surrounded by a black metal band in full corpse costume—might not seem like a good idea to most people, but Janet isn't "most people." She struck up a conversation with the band ("Lookin' good guys!") and before they knew it, they were all taking photos together.
The photo she captured of the couple and band posing together has gone viral to an extent that few photos ever do: 800K+ views on Imgur, hundreds of thousands of shares, and features in ever major publication you can think of.
This was most certainly not the theme the couple had in mind when they set out.
"I encouraged them to make their Engagement photos personal and uniquely them and they wanted part of their photoshoot to be an ode to John Awesome's favorite movie, Forrest Gump," explains Janet. "We had a Bubba Gump hat for him, a flower crown for her, and of course a box of chocolates."
Coldvoid had … different props with them. Namely some nails, bullets, a noose, and a black candelabra that dripped like red blood when lit.
The photos are so dissonant they'll give you whiplash—especially the mashup of couple and band—but people have been going crazy for this photo shoot since it went online last week. Plus, it's an experience neither photographer nor couple will ever forget.
"It was a perfect, spontaneous finale to our photo shoot," says Wheeland.
To see more photos from the couple shoot and hear the story of this strangest of run-ins from the photographer herself, head over to the Wheeland Photography website.
---
Image credits: All photos by Wheeland Photography and used with permission.