Photographing the Hula Valley, Rest Stop for Half a Billion Birds Every Year
The Hula is an agricultural region located in northern Israel with abundant fresh water. It is a major stopover for various birds' migration path along the Syrian-African Rift Valley between Africa, Europe, and Asia. An estimated half a billion birds are passing through the Hula Valley every year.
The most common bird to visit the Hulla valley is the Common Crane (scientific name: Grus Grus) which is also known as the Eurasian Crane. It's towering to an impressive 100 to 130 centimetres tall with an extremely wide wingspan of approximately 240 cm. Its weight fluctuates from 3 to 6 kilograms only.
Our trip started shortly before sunrise as our tour guide accompanied us in an open Tractor-drawn Safari wagon to the first observation point in a well restricted-access section of the Valley. The waking majestic nature started to unfold as we viewed the first rays of the Sun hit the waters and touched the wild life.
The best time to get the full experience is to join the feeding hour in the early morning. A giant Tractor is used to distribute many Tons of birdseeds to the enjoyment and excitement of the millions of Cranes residents.
An endless field of Cranes is getting ready for Breakfast:
A late arrival looking for a spot to eat his seeds:
The feeding hour: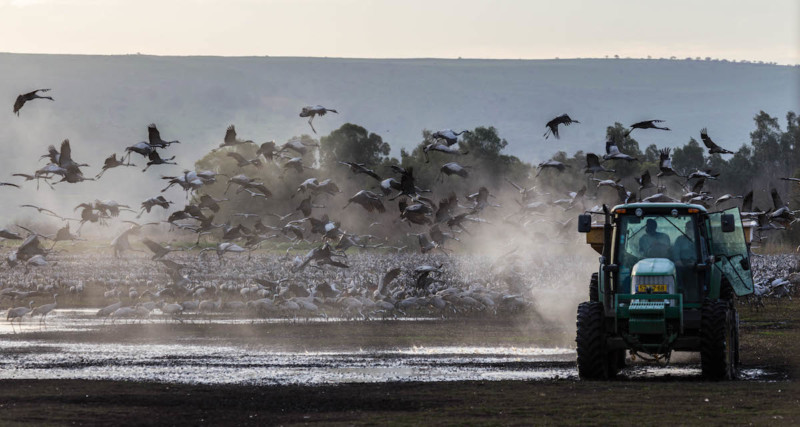 Few Plegadis falcinellus sitting on a branch in a small lake:
One of the ponds is home to a small family of Ducks. Basking in the morning Sun:
The main camera I used was my Canon 6D with Canon EF 100-400mm f/4.5-5.6L, unfortunately it's quite impossible to try and fly my DJI Phantom 3 Adv there as it's a pure no flying zone with all those cranes flying around.
More cranes flying a way after eating:
The cranes over the Mount Hermon:
---
About the author: Ronen Vaisman is an amateur photographer who's only been shooting for a few years. You can see more of his work on his National Geographic Your Shot profile.