Shooting Sea Fireflies Lighting Up the Rocks On a Japanese Beach
This series of images was made using bio-luminescent shrimp as the blue light source. It was photographed in Okayama, Japan, which is home to these rare and beautiful creatures. Check out the gallery below and read on to find out how they were taken.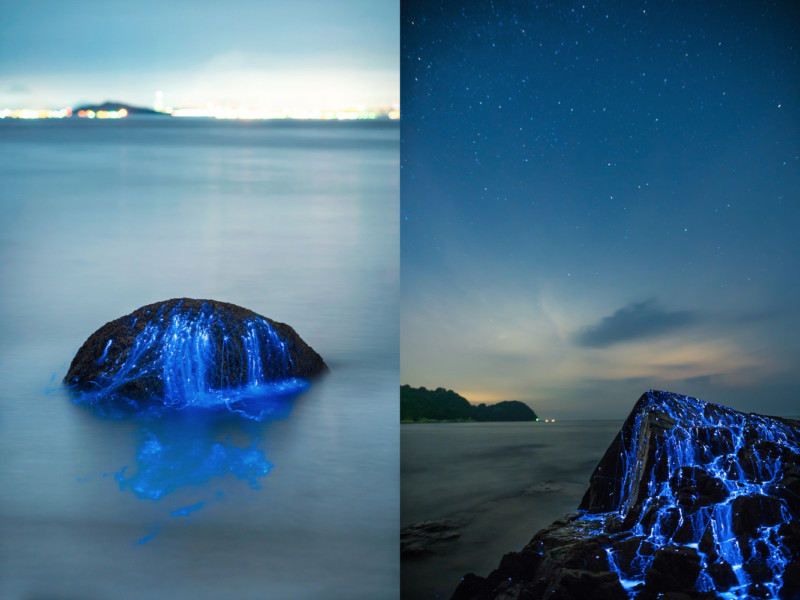 The bio-luminescent shrimp are scientifically known as Vargula Hilgendorfii, but are more commonly referred to as sea fireflies and locally known as "umihotaru." They are 3mm in length and live in the sand in shallow sea water, usually in the range between high and low tide. They feed at night which means they are actively swimming in the water close to shore.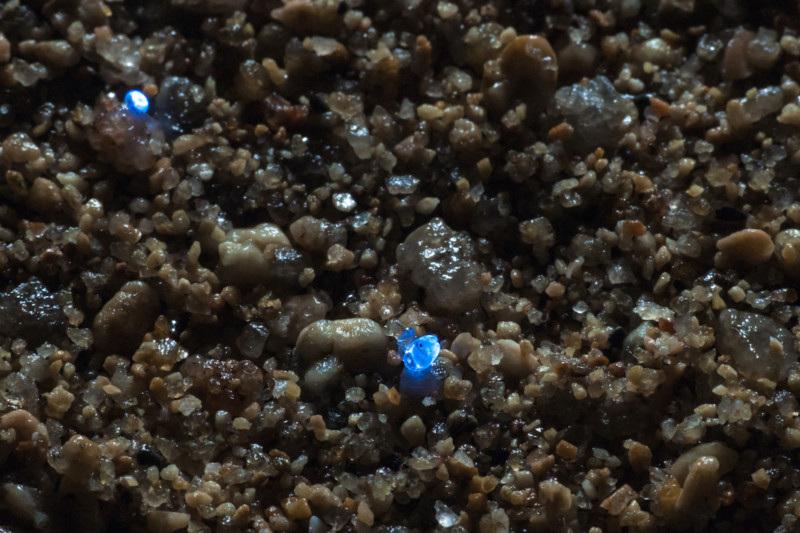 They wash up on shore looking like blue diamonds in the sand, but while this is beautiful, it is not enough of a quantity to photograph so we decided to capture them in abundance for something a little more creative.
In 2015 we created a series of them on the beach. It was fun, and the images we shot were OK, but there was a feeling that something more could be done. This urge to do more is what drove us to create this year's set.
This set was created by pouring the "sea fireflies" over stone features along the shore to give the impression that the stones were "weeping."
To capture these creatures, you need some containers with a removable lid, rope, some raw bacon, and (most importantly) a good friend or two. To catch the sea fireflies, you must go in and out of the water, touch and separate that bacon, and generally get covered in sand which makes it difficult to work with camera equipment after. It is much easier if you team up and have one person working the camera and the other doing the "fishing."
We used large 8L jars that are generally used for preservatives, drilled holes in the lid, and covered the whole jar with duct tape. Then, we attached a rope to the handle, taped up the jar, and we were ready to fish! Put some bacon in the jar, secure the lid, and sink it 2-3 meters from shore.
We usually secured the rope to a rock or stick to keep track of the jars and prevent them from getting washed out with the tide. We recommend waiting around 40 minutes to an hour before recovering the jars.
Once you have recovered the jars, pouring them out on the sand will create a blue sparkle like you have never seen before. They will only glow for a short period, but dousing them with water will make them glow brightly once again. Get the jars back in the water quickly so they can fish your next batch while you photograph the ones you just caught.
We covered the jars completely with tape and attached a rope to the actual jar as well as the handle because the jars break easily when full of water. If they are covered in tape, the chances of them breaking is reduced and, more importantly, if they do break the broken glass can be recovered easily.
The sea fireflies live on sandy beaches that people usually swim at during the day, so leaving broken glass along the shore is not an option and must be avoided at all cost. Aside from the glass, we also shot them along the shore so we didn't harm them. Once poured over the rock, we continued to wash them off into the sea and sand below. Please shoot responsibly!
There is something magical about shooting bio-luminescence. Working together with friends to capture it in a photo makes the experience even more enjoyable. We look forward to the fall when we will shoot some bio-luminescent mushrooms for the first time. Hopefully we can share those images with you as well.
A more detailed tutorial can be found here. Our guide to capturing forest fireflies, with detailed editing information, and which may be useful for capturing sea fireflies can be found here.
---
About the author: Tdub Photo is a a commercial photo/video company based in Okayama, Japan. Creative duo Trevor Williams and Jonathan Galione work all over Japan and have a wide range of services from commercial video production all the way across the board to editorial and news reportage assignments for Getty Images. Their creative work had led to several TV appearances as well as a contributing author to a couple of how-to books.
You can find more of their work on the Tdub Photo website, Instagram, and Facebook.