These Gunshot Photos Were Shot with Bullets, Not Cameras
For his project "Shots Fired," photographer Mark Teiwes created images of gunshots. Instead of shooting the images with a camera, however, he shot the photo-sensitive paper with bullets.

"Using a camera-less process, I shoot photosensitive material," Teiwes tells PetaPixel. "It is the literal documentation of the effects of a gunshot on silver gelatin photographic paper, 4×5 sheet film, and paper treated with cyanotype emulsion."
"A typical photograph shows an image, but instead of showing an image of a gunshot or gun, the physical damage to the light sensitive paper is the representation," he continues. "The photographs themselves are the objects, which depict the results of their interaction with the elements of light, chemicals, and material forces. Rather than a photograph being a window into the world, its surface needs to be examined."
The work is Teiwes' thesis project for graduating from the Visual Arts MFA program at Lesley University in Cambridge, Massachusetts. He says he first got the idea back in 2015 after thinking about how the words "load," "aim," and "shoot" apply to both cameras and guns. The project is also inspired by Chris McCaw's "Sunburned," in which prints were literally burned by focused rays from the sun.
Here are some more of the images in the project: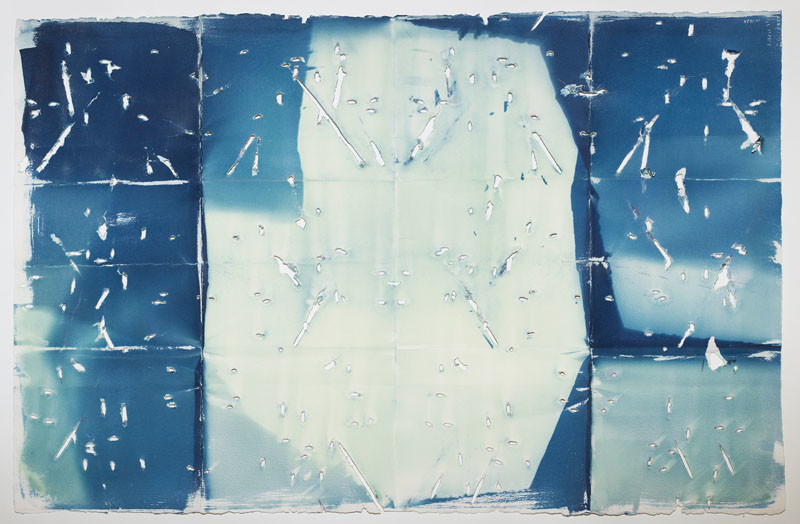 Teiwes says his hope is that the photos cause reflection, activating a "thinking process" for people who view them.
"My hope is that the objects created are not only evidence of a moment of violence, but also are catalysts for dialogue," he says. You can find more of Teiwes' work on his website.
---
Image credits: Photographs by Mark Teiwes and used with permission