Abstract Photos of Bullets Fragmented on Bulletproof Plexiglass
For her project "The Big Bang", photographer Deborah Bay captured macro photographs of plexiglass sheets that had various types of firearms fired at them. After having professional law enforcement officers fire bullets into the glass, she brought the sheets into a studio and "shot" them again with a Contax 645 and a 120 macro lens. She writes,
I began thinking about "The Big Bang" after seeing a sales display of bullet-proof plexiglas that had projectiles embedded in it. The plexiglas captured the fragmentation of the bullets and provided a visual record of the energy released on impact. As I began to explore this concept further, I also was intrigued by the psychological tension created between the jewel-like beauty and the inherent destructiveness of the fragmented projectiles. Many of the images resemble exploding galaxies, and visions of intergalactic bling sublimate the horror of bullets meeting muscle and bone. In fact, Susan Sontag described the camera as "a sublimation of the gun" — load, aim and shoot.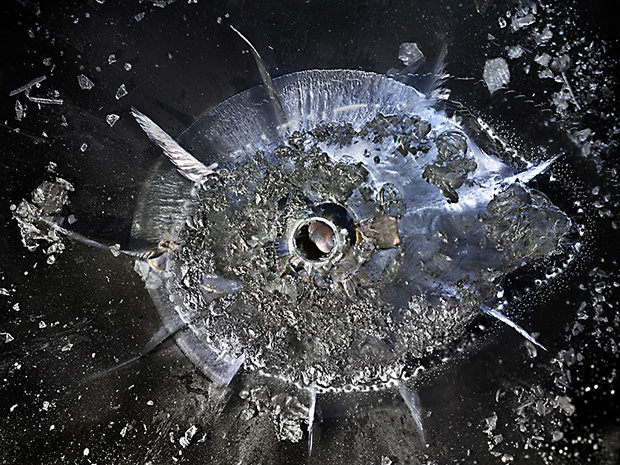 ---
Image credits: Photographs by Deborah Bay and used with permission