This 1000mm f/4.5 Lens Has a Trash Can-Sized Lens Hood
Want to own one of the biggest lenses you can get your hands on? Hastings, Nebraska-based photographer Jim Headley is selling just the lens for you: it's a gigantic 1000mm f/4.5 lens that was originally made for NASA back in 1964.

Headley originally got his hands on the lens from a close friend (who was closing down his camera store) nearly two decades ago by trading several view cameras. In addition to the lens, he got the original case, a rolling tripod, and the original NASA property tags.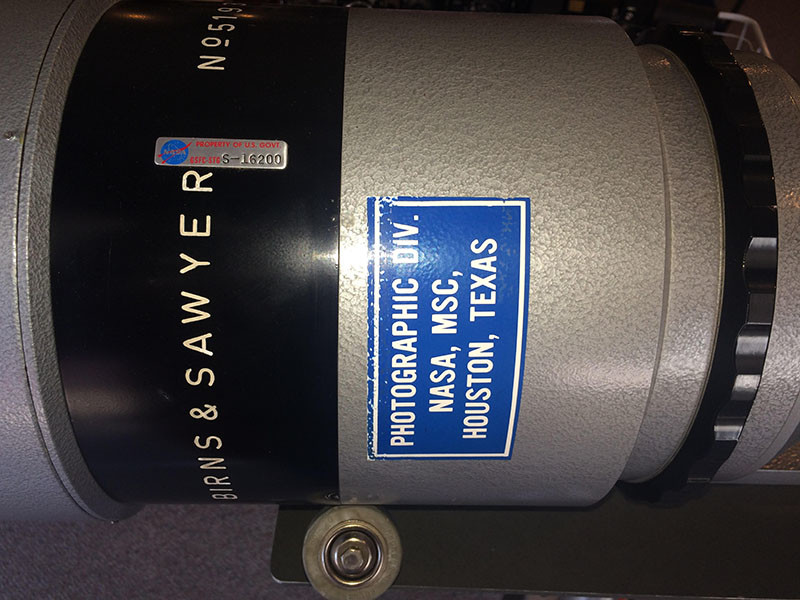 The Birns and Sawyer 1000mm f/4.5 Omnitar lens was commissioned by Birns and Sawyer of Los Angeles and manufactured by Astra in Germany, Shutterbug reports.
It weighs a whopping 70 pounds (good luck shooting handheld), has a 10-inch diameter, is 4-feet long, and has a lens shade the size of a trash can. There's also a handle that looks like a steering wheel for helping you get a grip on the lens.
"Needless to say it is an awesome lens," Headley writes, "but [it] takes two people to move it out of the Land Rover and onto its wheeled tripod."
Headley adapted the lens to work on his Canon 40D, making it the equivalent of a 1600mm lens thanks to the crop sensor. Here's a photo Headley shot using the lens showing Chimney Rock in western Nebraska from 7 miles away:
Here's what Chimney Rock looks like through the lens from 20 miles away:
This test shot shows houses located 2 miles from the camera:
Headley is selling this lens later this year through R&R Auctions in Amherst, New Hampshire. Contact the auction house if you'd like to learn more. You can also get in touch with Headley himself through his webpage for the lens.
---
P.S. Canon appears to be working on a new 1000mm f/4.5 lens of its own, but the Diffractive Optics in that one would make it significantly smaller and lighter than this beast of a lens.