Documenting Ice Road Trucking in Siberia, a Terrifying Assignment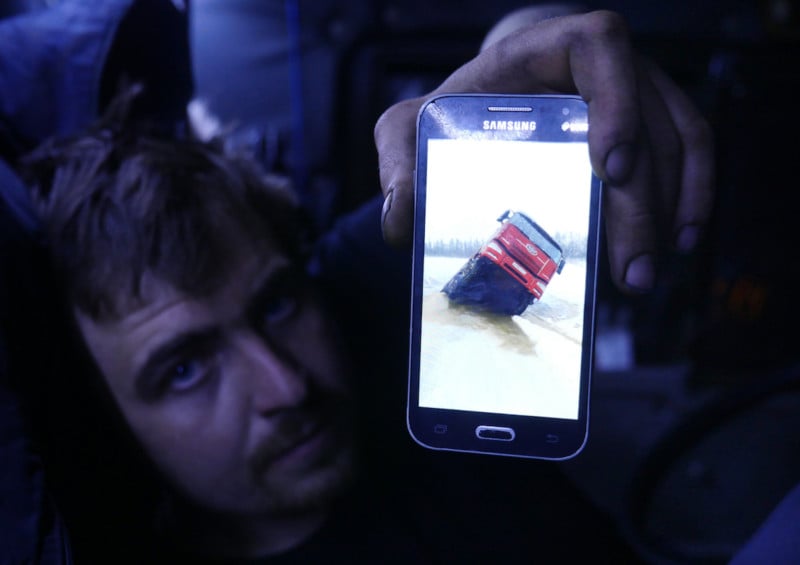 Photojournalists are used to risking life and limb to capture their subject, but how many have had to risk freezing to death in Siberia? Photojournalist Amos Chapple has, and he recently told the story behind this "scariest assignment of my life" in a photo essay that'll have you literally holding your breath.
The photo essay was shot for Radio Free Europe, who sent Chapple to document one Russian ice road trucker's 12-day haul up the frozen (but quickly thawing) rivers that lead up to the country's arctic north.
Chapple was paired up with was 28-year-old Ruslan Dorochenkov, 8-year veteran driver of the Indigirka River. Together, they hopped inside Ruslan's Kamaz truck—loaded up with groceries to a total weight of 12-tons—and hit the road on a late afternoon in Spring.
The trip begins on solid roads, the Kolyma Highway built during the Stalin era and known as the "Road of Bones." Everything happens in the truck: eating, sleeping, all of it with the engine and heaters left on at all times.
But even before they hit the ice, Ruslan begins regaling Chapple with stories of death on the road. At one bend in the road, Chapple hears the tale of a trucker who slid off the road and plummeted 70 meters to his death… comforting.
It isn't long before the group runs into trouble. Ruslan greets a truck-sized ice hole by saying simply "that's fresh" and finding a new route; but before long they find themselves breaking through the ice.
As Ruslan attempted to cross from one bank of the river to the other, the ice begins to crack. When the truck lurched into the ice on Chapple's side, he was ready. Door cracked open, he jumped to safety.
Fortunately, the ice held, but it was a close call that Chapple captured on camera:
This is all that separates life and death on these roads: luck. Ruslan told too many tales of close calls and death while Chapple tried to focus on capturing their trip, a growing unease in his stomach as the trip wore on.
Below are a few more images that Chapple shared with us from his trip to Belaya Gora: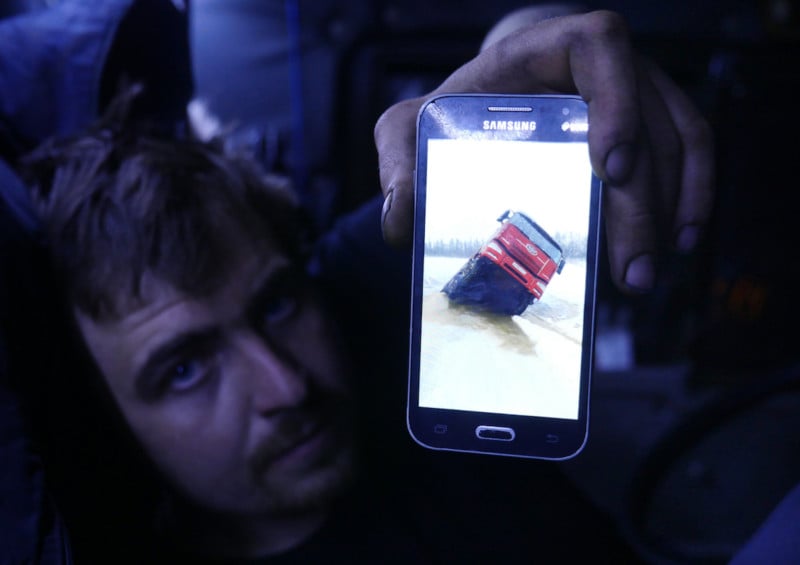 You can read the full story and see many more photos (and video) at this link. It's a terrifying tale that'll have you grateful for every moment you spend on dry land, comfortable and not having to risk life and limb for a $600 pay day.
---
Image credits: All photographs by Amos Chapple and used with permission.