Little Astronaut Discovers Our World in Touching Father/Son Photo Project
There was a time when what you consider your "day-to-day," with all its errands and monotony, was new and fresh. A time when each trip outside was a foray into the great unknown. That's the feeling that photographer dad Aaron Sheldon and his 4-year-old son capture in their photo project Small Steps Are Giant Leaps.
"I had the idea for Small Steps Are Giant Leaps while I was riding the bus with my then three-year-old son. What was a normal, everyday event to me had him completely transfixed," writes Sheldon on the project's Kickstarter page. "[The project] is about reminding parents that to our kids this is a new and exciting world just waiting to be explored."
Inspired by his son's amazement with the bus ride, Sheldon wanted to find a way to document his journey of exploration, but he didn't know how he would do it. The answer came during a trip to the doctor's office.
"My son had two fears: hand dryers and exam tables," explains Sheldon, "and I was continually trying to find ways to help him face and overcome his fears."
On this latest trip to the doctor, they began discussing the kinds of people "brave enough" to sit on exam tables when he asked "What about astronauts, Dad. Are they brave enough?" The answer was a resounding yes, and after braving the exam table, Sheldon's little boy said, "Next time I get sick, I can wear my astronaut helmet here and you can take a picture of me, right dad?"
Soon the ideas began rolling in, inspired by the many questions the little astronaut was asking and his growing obsession with all things space-related. Each of his "How do Astronauts *fill in the blank*" questions—do laundry, get hair cuts, you name it—turned into a photo idea that the duo would go out and execute.
Soon there was a whole series, and Sheldon began to understand his role in all this. "Our job as parents is to act as their mission control and co-pilot," he writes. "To make sure they can explore as much of their new world as possible."
Each shoot takes 10-15 minutes, and Sheldon calls them "half candid."
"As my subject is a 4 year old, I can usually get him into the suit and to the site we are going to shoot but as soon as the helmet is on, he doesn't take direction very well," he tells PetaPixel. "When I set up a shot, I try to keep other people out of the frame to show that these 'little explorers' are off in their own little world."
"It has truly been a collaboration between he and I," he continued. "[And] as we did more shoots, my son became more and more interested in space and now reads every space book we can put in front of him."
Each photo was captured using natural light with a Fuji X-T1 or, more recently, an X-Pro2: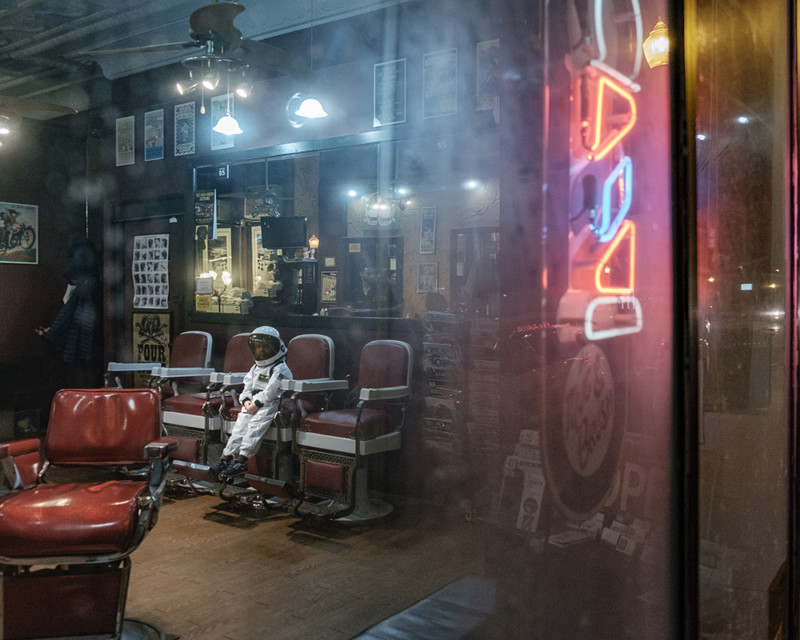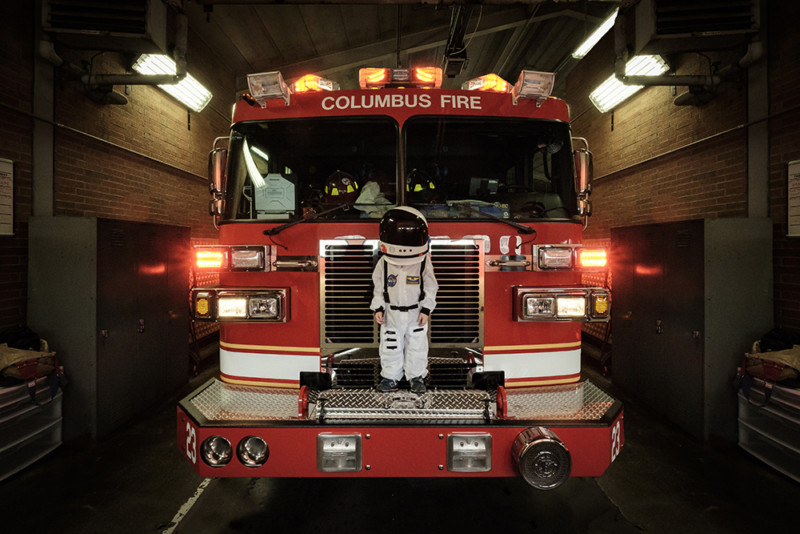 Now that the project has gained some traction—the images have been used by companies like Target, Highlights for Children Magazine, and more—Sheldon is turning the series into a photo book for many more young (and not-so-young) explorers to enjoy, with some help from Kickstarter.
He's trying to raise $4,000, which will go to support travel for him and his 4-year-old astronaut to New York City, Washington DC, and Florida's Space Coast to complete photography for the project, new space suits/helmets, and costs related to producing the book and making prints for an upcoming exhibition.
A $50 pledge will earn you a soft-cover copy of the photo book, access to the E-Book, a 5×7 bamboo paper flat card with a personalized thank you and "autograph" from the little astronaut, access to the SSAGL Instagram account, your name on the 'backers wall' at the gallery show, and an invite to a backers-only viewing of the show before it opens. Higher pledge levels include things like metal prints, and even a photo shoot with Sheldon and his son.
To learn more about Small Steps are Giant Leaps or if you'd like to support the project, click here.
---
Image credits: Photographs by Aaron Sheldon and used with permission.