Pushy Street Vendors Bothered Me So Much… Until I Shot Them
In order to tell you this crazy story, we have to go back to May 2015. As you may have read, my brand new $1,600 L lens fell to the ground after I got it out of my backpack. The glass didn't have any scratches, however, the focus was completely broken and all photos turned out blurry. Although it was a huge shock at first, I wanted to turn this moment around and "develop the negatives". I quickly fell in love with this broken look and created a set about broken characters with a broken lens by a former broken soul called "Broken: Amsterdam".


I simply loved the look, approach and style of the photos, because it was so different than my regular clean, minimalist and gentle signature look. So I promised myself that I would produce yet another set with the lens in a place that was somehow "broken". Almost instantly I thought of the weird, crazy Thai metropolis that is Bangkok and the plan for "Broken: Bangkok" was born. But what was I going to shoot there?
In October and November of 2015 I spent 5 weeks traveling through South-East Asia. While I was mainly traveling and enjoying life in Vietnam and Cambodia, I spent 2 weeks in Bangkok to write, work on my magazine, and produce "Almost Invisible" as well as "Broken: Bangkok". After almost a week I still didn't know how to produce the set.
Don't get me wrong, there are endless things that are "broken" there, but nothing really appealed to me. Bizarre moments were all around me, but I didn't really feel any of them. I thought about what made me produce "Broken: Amsterdam". Back then, the creative energy of the set was driven by my deep feelings of frustration that I eventually turned into positivity. I asked myself, whether there was something here in Bangkok that could fuel this set.
Every day as I walked down the streets of the city one pushy street vendor bothered me after another. Have you've ever been to a place where people permanently approach you on the street to sell you stuff? It really drives you up the wall at a certain point. Although I'm a very calm soul, I was furious after a while. After yet another street vendor shoved a ping pong show flyer in my face one night, it hit me! Literally. I thought to myself: "Alright, it's on! If you street vendors always have a wonderful surprise gift for me, I also have one!" I took my old 5D Mark II with my broken lens and shot all the people that bothered me on the street.
Once they started bothering me with their wonderful offers, I returned the favor by always holding my camera in their face. You won't believe how strangely liberating that was. My camera truly felt like a creative antidote for this daily street vendor poison. All of a sudden, my frustration turned into excitement and a positive outlook on the whole situation. I had found my inspiration for the set! From then on, whenever I was exploring the city, I always had my "protective gear" with me. At a certain point, it was so much fun to catch them off guard that I was even looking forward to the next surprise sales pitch. Isn't it amazing how things change once your perspective about them changes?
What made it even more fun was the fact that I received such a wide range of reactions from them. Street vendors are generally used to people that simply ignore, politely thank or slightly insult them – but I'm sure few shove their camera in their face. The more aggressive the sales pitch was, the more photos I took. Some were completely taken by surprise, some gave me a high-five, yet others asked me to talk to the hand, flipped me off or even wanted to start a fight. What really made me happy in the end was that with very few exceptions, everyone had a good laugh about it with me. Of course the ones that didn't ended up in the set, too.
A little bit about the style of the set. Since the lens is broken and everything looks blurry and slightly trippy already, the post-processing takes a similar approach.The first set was produced in the red light district of Amsterdam, which is why the whole style was dipped in red. I loved that, because it underlines the abstract and experimental nature of an unorthodox photo series like these. That's why I took a similar approach for "Broken: Bangkok" and poured a big bucket of blue on the set. While my regular signature always strives for harmony, "Broken Bangkok" simply reconnects me with my inner child and let's me play and go wild without any rules or expectations. I know the set looks all bizarre and strange, but that's what Bangkok is famous for, right?
This set showed me yet another example of the beautiful power of positivity in photography and life. Once you realize that you are always able to "develop the negatives", even frustrating and negative situations can be turned into something you love. Although sometimes it's challenging to see the bright side, all it really takes is positivity in your heart, love for life and I guess a little spark of madness. So whenever something bad happens to you in the future or even right now, always grab your camera, "develop the negatives" and turn it into something beautiful that is uniquely you.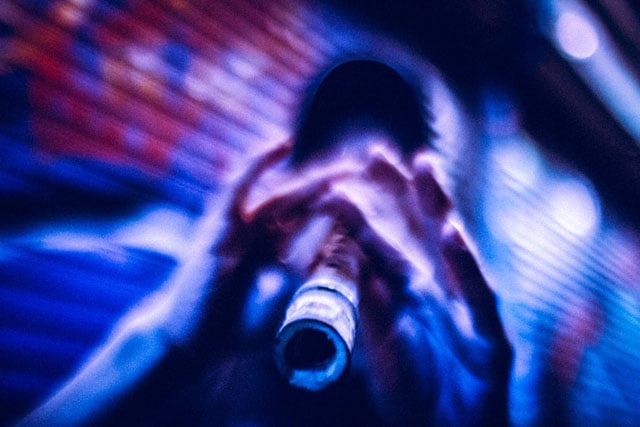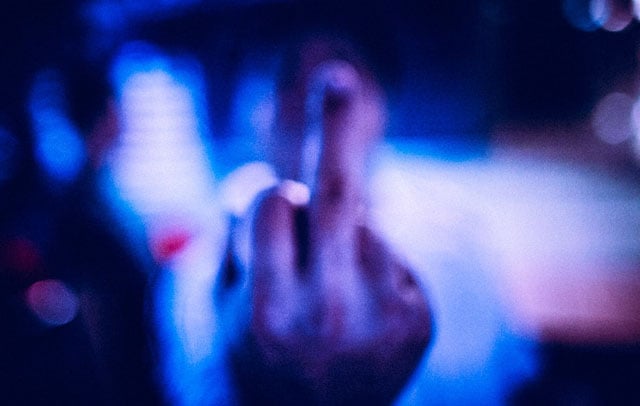 ---
About the author: Marius Vieth is a 21-time award-winning German fine art photographer focused on street photography currently based in Amsterdam. He's also the publisher of his own premium print fine art magazine. You can join him on his creative journey around the world on his website, YouTube Channel, Facebook, Flickr, 500px, Google Plus and Twitter. This article was also published here.