ISS Transit Finder Helps You Shoot Photos of the ISS Against the Sun and Moon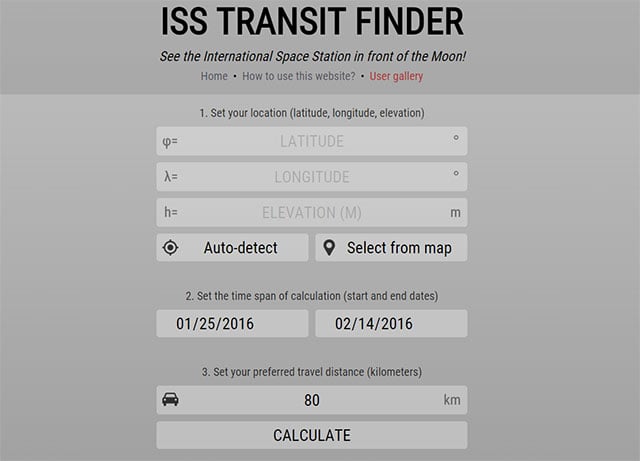 ISS Transit Finder is a new web app that's designed to help astrophotographers figure out when and where the International Space Station will fly across the face of the Sun from a vantage point on the ground.

The site was just launched by Polish photographer Bartosz Wojczyński, who previously shared an incredible high-res moon photo and a 6-hour exposure of the north pole.
There are some existing solutions that photographers often use to calculate transit details — one is CalSky — "but none allow performing a calculation in literally 3 clicks," Wojczyński tells PetaPixel.
Using the service is simple: first, you'll need to enter your location by providing latitude, longitude, and elevation. If you want to make things easy, you can select a spot from a map, or you can allow the site to detect your location and have it auto-inputted.
Then you'll need to select a date range for your photo shoot and a distance you're willing to travel to get the shot.
Finally, hit "Calculate," and the app will crunch the numbers for you and spit out a list of upcoming events that you can photograph. Each one can be plotted on a map or expanded to see more details.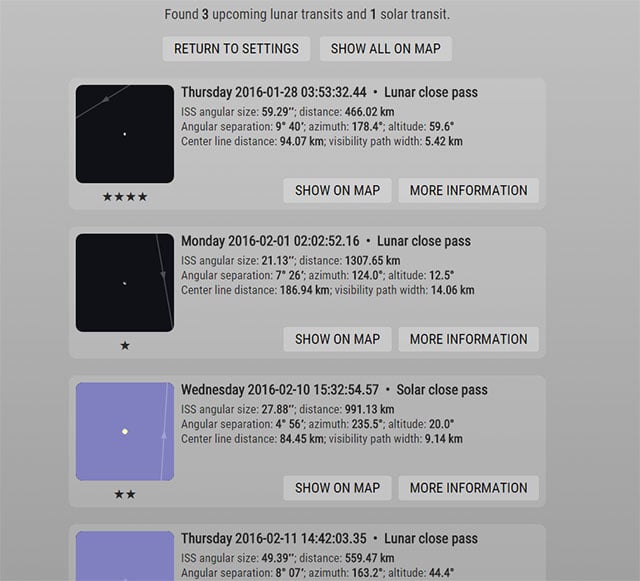 Here's an example video showing a lunar transit. Wojczyński created it back on December 20th, 2015, from Pyrzowice, Poland, using a 120fps camera and a focal length of 2350mm:
Here's an example of a multi-shot composite photo showing the ISS transiting the Sun (captured by Bill Ingalls of NASA):
"Because the station moves extremely quickly, you will need to use a short exposure time to 'freeze' its motion," Wojczyński says. "A good rule of thumb would be not to exceed an exposure time equal to 1 divided by 2-3 times your focal length. So if you are photographing at 600 mm, an optimal time would be around 1/1500th of a second."