Sponsored: Want to 'Name Your Price' on Photo Gear? Check Out the New Greentoe App!
Ever notice when you search for photography gear online that all the prices are exactly the same? Does it make you wonder why there isn't at least ONE retailer selling that awesome lens for less?
Have you ever tried to haggle? Maybe you have experienced that awful feeling of negotiating with a super annoying salesperson that was barely listening and every time he said something it was as if you weren't even standing there. You know, that "I don't care about you, I care about my commission" attitude. And even if you don't mind dealing with that type of seller, do you really want to spend time, gas, and money driving around from store to store?


To most people, haggling can be unnerving and uncomfortable. Only a brave handful of people genuinely like to haggle. Well, I'm here to tell you there's a company changing all of that AND more importantly, they're enabling you to name your price on photography gear.
The company is called Greentoe – a "name your price" website and app (iOS and Android) that empowers photographers with the ability to negotiate with multiple authorized retailers at once for great prices on gear. Everything sold via the site is new and backed by a full USA warranty and the deals being scored are lower than the lowest price online.
How it works
You enter the price you want to pay for a product. Greentoe's price-meter determines the possibility of that price being accepted. When the meter is "green", the likelihood of your offer being accepted is high. Yellow means maybe and of course, red means probably not.
Once you enter your final offer, Greentoe's proprietary technology distributes your offer to a network of authorized retailers. The first retailer to accept your offer ships the product directly to you.
To see Greentoe in action, here is a video of a shopper placing an offer on Greentoe.com:
Why this works
Contrary to popular belief, the lowest price for a product is not published online. Retailers are actually willing and able to sell the product for much less. It's all about asking for the lowest price but most consumers don't feel comfortable doing so and/or have the time to go from store to store haggling for the best deal. Generally, offers placed on Greentoe.com or via their mobile apps are accepted at 10-15% below the lowest published price online.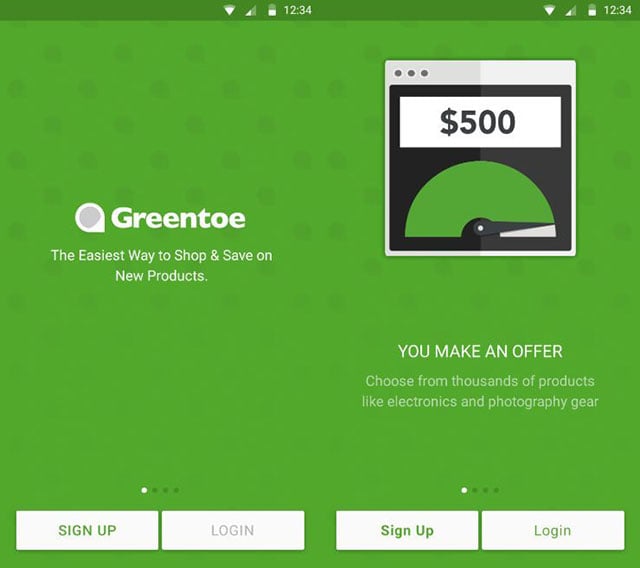 Some key facts
All of Greentoe's retail partners are authorized retailers. So, you are guaranteed to get USA Models with a USA Warranty. No Grey market is ever sold on the site. The most surprising thing is that Greentoe has deals with major retailers so after your deal is accepted, you'll most likely find your product is being shipped by a retailer you would've bought from anyway. They also have partnerships with manufacturers. This enables you to get an even better price that you can possibly get from a retailer.
Greentoe has an amazing reputation and excellent customer reviews. Thousands of photographers have saved money using Greentoe and are very happy with their service.
They accept PayPal and all major credit cards. Another key option is PayPal credit which offers no interest or payments for 6 months for those of you strapped for cash at the moment.
Check Greentoe out at on their website or by downloading the mobile app today!