Here's the Thrifty Way to Mount a DSLR Lens to Your Phone Camera
Smartphone camera quality has gotten pretty darn good in recent years, but one of the limiting factors is still the tiny lens that's found in front of the (usually) tiny sensor. Accessory makers have started addressing this problem by creating add-on lenses that you can attach to your phone to improve the look of your photos — even ZEISS jumped into the game this week.
Jake Burgess wanted to use his Canon SLR lens on his iPhone, but he didn't want to pay the high prices it takes to buy a commercial one. So, he came up with a makeshift solution that costs $0.

All you need to do is duct tape your phone to the back of your DSLR, with the phone's camera looking through the viewfinder… and therefore through the lens.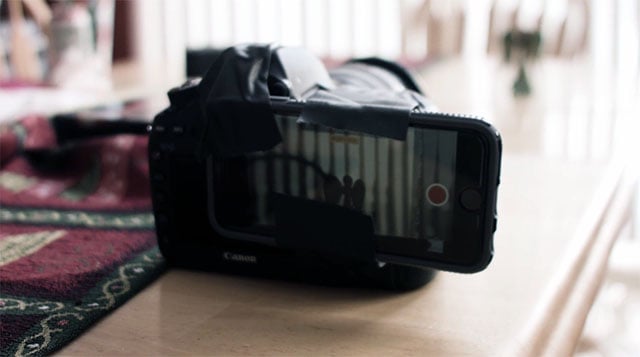 The results are interesting and can be seen in Burgess' video above. You can achieve a much shallower depth of field than the smartphone can do by itself.
The problem, of course, is that any dots or lines inside your camera's viewfinder will also show up in your resulting photos and videos.
"This isn't perfect, I rushed the grading and I plan on running some tests to try to remove the viewfinder circle," writes Burgess. "I also really wish I had cleaned my lens and viewfinder before shooting. Ah well, live and learn."
---
Image credits: Video and still frames by Jake Burgess