Sneak Peek: Adobe 'Monument Mode' Wipes Tourists from a Scene in Real Time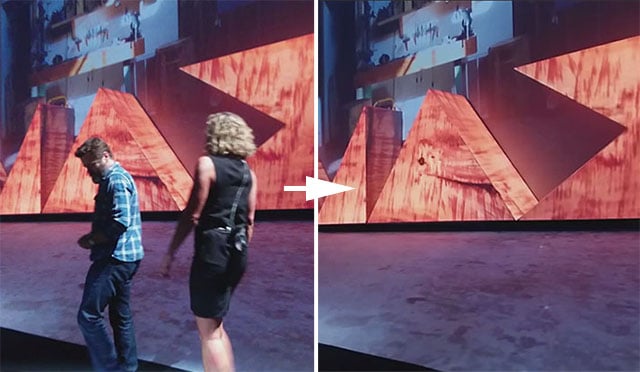 At the Adobe MAX conference last night, Adobe shared some sneak peeks at innovative technologies currently being brewed by company scientists in their lab. The recent Dehaze feature in Lightroom was teased at the same conference last year.
This time around, one of the photo technologies that was unveiled is a camera feature called Monument Mode. Switch it on, and your camera will be able to shoot photos that are free of tourists and other distracting elements.

As we've shared a number of times in the past, one way to remove tourists from a scene is to shoot multiple photos of that scene with the tourists in different positions, and then stack the images to only keep the unchanging portions.
It appears that Adobe's new Monument Mode feature does a similar thing, except all in-camera and before you even press the shutter.
A demonstration was done last night with the help of actor Nick Offerman and Adobe communications manager Kim Chambers. The two stood on stage, and a standard photo with a smartphone shows them inside the frame:
After Monument Mode was turned on and the two walked around in the shot a bit more, the smartphone could capture a photo that removes any hint of the two people, even though they were still standing in the frame.
Here's a video of the demonstration so you can see the technology for yourself:
"Taking pictures of landmarks and sites can be difficult, the more popular the location the more likely it is that people, vehicles, and other objects will get in the way obstructing your view," Adobe says. "'Monument Mode' uses a new algorithm to distinguish moving objects from fixed ones, one-click and those obstructions are gone for good."
As with all of Adobe's previous tech previews, there's no guarantee we'll see this feature launched to the public anytime soon. But Adobe does say that "if this tech preview comes to fruition, your tourist images will be beautifully without any other tourists."