These Camera Lenses Were Sprayed with Rubberized Car Undercoating
Check out the rugged Panasonic lenses in the photo above. No, Panasonic didn't quietly release ruggedized versions of the 100-300mm and 42.5mm that you didn't hear about. The lenses were upgraded do-it-yourself-style by photographer Nate Cowlishaw at home using rubberized undercoating designed for the undercarriages of cars.

On his website Talking Tree Photo, Cowlishaw writes that while he mostly uses the spray on cheap lens hoods, he also occasionally uses it on lenses themselves.
"[…] some of my lenses felt pretty plasticky," says Cowlishaw. "After thinking long and hard about it, I felt like things should have some extra protection implemented. So I took the liberty of painting my lenses in rubberized undercoating to toughen them up a bit and it really works like a charm!"
The photographer has spent years experimenting with different rubberized undercoatings, and he recommends using Evercoat Automotive Premium Rubberized Undercoating instead of cheap brands "for a heavy duty job" and to avoid the risk of messing up your lens.
After using black electrical tape to protect certain areas of his lenses, Cowlishaw sprays the lens bodies and then leaves them out. It takes about 1 hour to dry and 24 hours to set (and for the smell to go away). The result is that cheaper lenses feel more durable and more weather resistant.
"It seems to help my equipment hold up much better under heavier usage and stay new longer," Cowlishaw says. "I've had this undercoating on some of my equipment going on 5 years now and it's still looking new."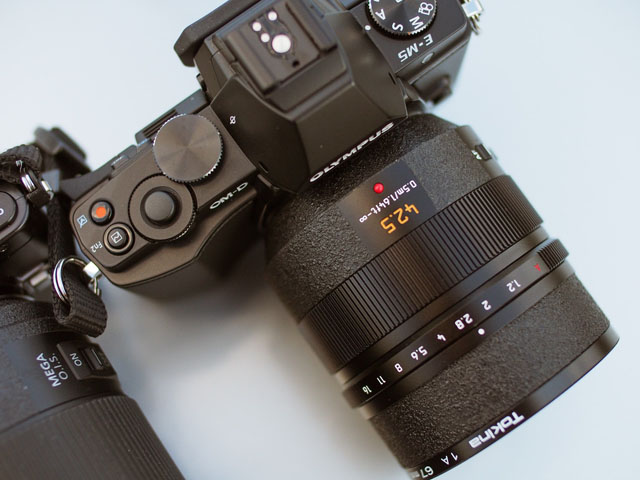 "This may sound utterly insane, but if I owned the Leica Noctilux, I might be tempted to try this method on one of those!"
(via Talking Tree Photo via 43 Rumors)
---
Image credits: Photographs by Nate Cowlishaw and used with permission