6 Fantastic (and Free) Video Editing Apps for iOS
Personal videos have long been an integral part of our lives, allowing us to share and cherish memories with our friends and family. Apple's recent release of the iPhone 6s and iPhone 6s+ have introduced ultra high-definition 4K video recording to a massive new audience. With such a powerful device, you may want to tweak your footage before you share it. Today, we are taking a quick look at five different editing solutions for your iOS device.

#1: iMovie
When compiling a list of various editing solution for the iPhone, it is almost impossible to forgo mentioning Apple's iMovie application. With the deepest integration compared to any other app on this list, iMovie is able to take advantaged of Apple's latest features including support for 3D touch, 1080p HD videos at 60fps, and ultra high-definition 4K footage.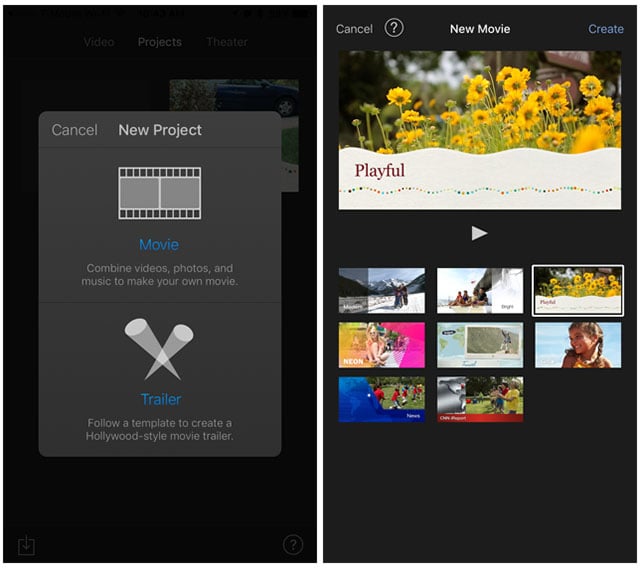 Unique themes allow users to add matching titles, transitions, and music to their videos, without needing to worry about cohesive design. If you don't have your own music on-device, iMovie is also happy to provide you with some built-in music and sound effects. It should be noted that some effects are a bit limited, however, and we found the lack of ability to place the text where we wanted as a bit strange.
Other features of the app include the ability to access your movies across iCloud and via Apple TV with iMovie Theater. If you happen to be a news junkie, you can upload videos directly to CNN iReport; if not, simply share them with your friends on Facebook and Vimeo. Those who have used iMovie on the Mac OS X desktop will feel at home with this mobile rendition.
#2: VivaVideo
An application popular on both iOS and Android, VivaVideo is probably your best choice once you step out of iMovie. The video editing tool allows users to quickly trim and merge clips on a neat timeline and doesn't lag behind. You can even utilize the app's unique 'camera lenses' to film content from within the application while applying special effects in real-time.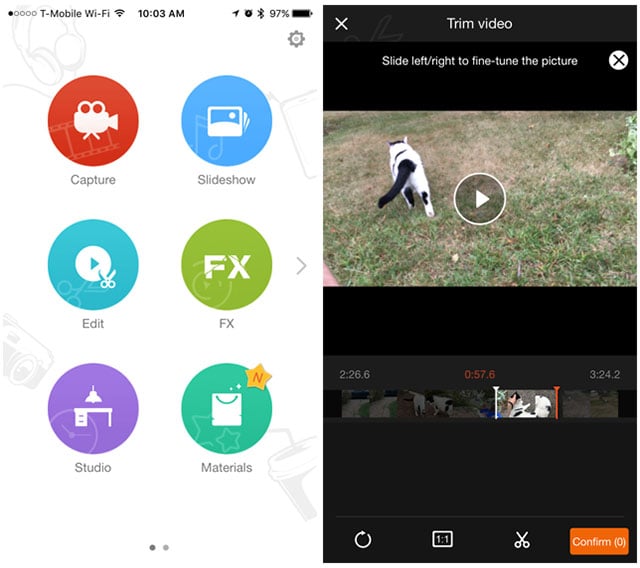 One of the best reasons to use VivaVideo as your editor is simply for the outstanding amount of content. As soon as you download the application, there are over two hundred stickers, themes, filter, text arrangements, and transitions for you to play with at no cost. Built-in features even allow you to quickly make slideshows with only a few clips.
We weren't thrilled about the app's layout, which forces you to switch between different menu sections for various tasks, but overall the experience was enjoyable after a bit of a learning curve.
#3: Video Trim & Cut
This app is one that gets directly to the point. You won't find any themes, filters, or soundtracks here, just the ability to trim and cut your video as desired. Video Trim & Cut features the easiest to use timeline with a zoomed in view when editing that allows you to start and end exactly where you intend. Best of all, the application is completely free without any in-app purchases.
Once you are done trimming your video as desired, you can output it as either an MPEG-4 or QuickTime file format in high, medium, or low quality. All videos are even able to retain their metadata, and the company says that the app has been 'optimized for network use.'
We can't help but to feel a bit split in opinion as Apple's built-in video editor within the Photos app essentially does every action this application can perform. However, if you are not a fan of Apple's Photos application or want a bit more control over your exports, this may be a great choice.
#4: Magisto
One of these applications is very different from the others; its name is Magisto. For those of you who don't have the time to edit your own videos, you may want to take a look at this interesting application. Magisto creates videos for you in what they say is '3 Easy Steps.' After testing, we have to agree that it is exactly three steps and they are quite easy.
Simply launch the application and select your video(s) that you want to be made into a movie, next select a theme, then select a soundtrack – you are done! Magisto will upload your video to the company's cloud service where it will be edited into a magical masterpiece. Once your video is ready after a minute or two, you can share it on your favorite social websites. Magisto also has a built-in social network so you can share with friends and family.
Magisto is not an application for everyone. If you want even the slightest bit of control over your video then you should probably look elsewhere; there is no trimming or editing here. However, even I must admit that it is an interesting application to keep around when I want to quickly condense a long video moment down for Instagram posting.
#5: Splice
Splice is a video editor that aims to be powerful, yet minimal. Luckily for both users and the company behind Splice, the application fulfills its goals. Users simply select the video clip they want to work on to get started. The timeline then presents each video as an individual clip to work on and edit if needed.
Tap any video that needs adjusting and you are sent to a separate area to add effects, trim selections, or adjust text overlays. Once you have made your changes, you are returned to the main board to examine your other clips. From here you can add sound effects or record voice-over narration for your video.
While Splice doesn't have all the themes and effects that VivaVideo contains, it doesn't have to in most situations. Splice let us get our editing done quick and easy. Options were simplified, but what was available was done extremely well and contributed to making our content look of the highest quality.
#6: Replay
Our last application on this list isn't the most popular, but it deserves a bit more attention than it normally receives. Similar to Magisto, Replay is an application focused on creating videos automatically for you without a need to edit them yourself. However, Reply provides a lot more control over your theme, music, and video properties.
Start by selecting your video and Replay will give you a list of possible themes for remixing. Once you have selected a style, you can opt to change the music to something else in Replay's library or select any audio currently on your iPhone. If you want to adjust the trim, audio, or crop of the video, a few clicks let you get the job done.
If you are on the search for an app that can automatically edit your content, Magisto is the popularity winner, but Replay is also worth taking a look at with its added functionality. Replay even allows you to preview your theme changes in edits in real-time without the need of uploading it to a server. It should be noted, however, that Replay is not completely free and is best enjoyed if you first shell out a few coins.