Photographer Captures the Bizarre Beauty of Soviet Bus Stops
Back in 2002, photographer Christopher Herwig embarked on a long-distance bike ride from London, England, to St. Petersburg, Russia — a journey that spanned over 1,500 miles. The trip was also a photo ride, as Herwig challenged himself to capture one good photo per hour. As he biked through former Soviet countries, Herwig began noticing how unique many of the bus stops were.
12 years later, those bus stops are now the focus of a new photo project and book by Herwig that's titled Soviet Bus Stops.

Herwig compiled the photos by covering over 18,000 miles through 14 different countries of the former Soviet Union. He traveled by car, bike, bus, and taxi in his search for these strange micro monuments of Soviet aesthetics.
"The local bus stop proved to be fertile ground for local artistic experimentation in the Soviet period, and was built seemingly without design restrictions or budgetary concerns," writes Herwig. "The result is an astonishing variety of styles and types across the region, from the strictest Brutalism to exuberant whimsy."
His project has become the most comprehensive collection of Soviet bus stop photos, documenting the diverse designs found in Kazakhstan, Turkmenistan, Uzbekistan, Kyrgyzstan, Tajikistan, Ukraine, Moldova, Armenia, the disputed region of Abkhazia, Georgia, Lithuania, Latvia, Belarus and Estonia.
Here's a selection of photos found in the project: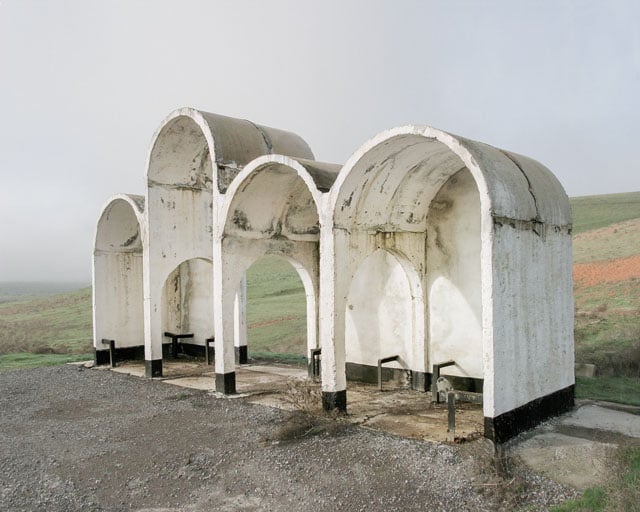 Herwig just launched his latest version of Soviet Bus Stops as a photo book. It's the #1 best seller in Amazon's "Monument Photography" category, and it can be pre-ordered for about $23 before its September 29 release date.
---
Image credits: Photographs by Christopher Herwig and used with permission