Iconic Photographers Posed for These Baseball Cards in 1974
Back in 1974, photographer Mike Mandel traveled across the United States and photographed 134 top photographers and curators as baseball players. Mandel then used those portraits to create Baseball-Photographer Trading Cards, an unusual set of trading cards featuring big names in the industry. As you can see from the card above, Ansel Adams was one of them.

Other well known photo industry figures included Imogen Cunningham, Harry Callahan, Minor White, Aaron Siskind, William Eggleston, Ed Ruscha, and John Szarkowski.
In addition to displaying the names and portraits on the front side, each card also had a personal statement from the photographer and various "stats" such as height, weight, birthplace, hometown, favorite camera/paper/film, and more. Mandel himself was featured on one of the cards, which were packaged and sold in packs of 10.
Mandel's goal was to give photography more recognition, as it wasn't as respected in art communities leading up to the 1970s.
"There were very few photographers that were getting any kind of national recognition as far as artists go," Mandel tells the Smithsonian. "Photography was always seen as this reproducible medium where you could make tens of thousands of photographs off the same negative, so it didn't have that same aura of the original."
After coming up with a list of photographers and convincing them to participate, Mandel embarked on a 14,000-mile road trip with $1,700 in savings to visit his subjects. Afterward, he printed 3,000 copies of each card and randomly inserted sets of 10 into plastic sleeves — alongside a stick of bubble gum provided by Topps. Those card packs were sold for $1 at museums and art galleries across the country.
Here are some of the other cards in the collection: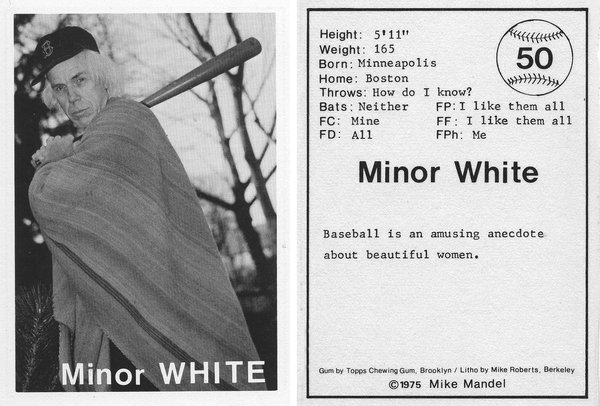 Original complete sets of the card collection cost upwards of $4,000 these days, but Mandel is now re-releasing the entire collection in a new boxed set titled Good 70s.
The boxed collection contains facsimiles from Mandel's original publications, including the Baseball-Photographer Trading Cards and other projects. Each set also includes a pack of 10 of the original 1970s cards.
You can pre-order Good 70s for $120 over on Amazon. It'll be released on October 27th, 2015.
Mike Mandel: Good 70s [Amazon via Smithsonian]
---
Image credits: Photographs by Mike Mandel/J & L Books and used with permission