MIDI2LR: An Open Source App That Lets You Use Any MIDI Controller in Lightroom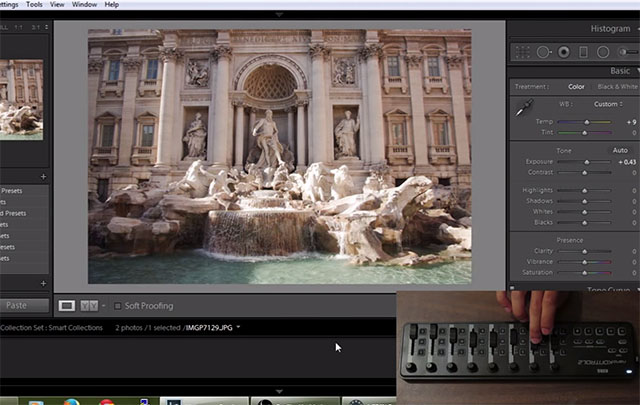 MIDI2LR is a new free and open source program that lets you edit photographs in Lightroom 6/CC using any kind of MIDI controller. If you've always wanted to go from using your mouse and keyboard to using knobs and buttons, this is something you might want to look into.

Developer Parth Davé tells us that his app and plugin works on both OS X and Windows (Paddy and Knobroom offer similar functionality, but they're designed solely for Windows and OS X, respectively).
Using MIDI2LR, you can map your controllers various knobs, buttons, and faders to various parameters in Lightroom's Develop panel. You can load as many controls to parameters as you need, and these mappings can also be saved and loaded for future use.
MIDI2LR has a 'pickup' method of updating Lightroom parameters — it'll wait until the controllers value is roughly equal to the Lightroom value before allowing changes. "This way if the user moves a MIDI slider to crank the exposure on a photo, when switching to another photo, moving the same MIDI slider will not immediately cause the new photo's exposure to shoot up," Davé tells PetaPixel.
The software doesn't currently support motorized faders, but Davé is planning to expand the project to include them in the future.
Pricier controllers such as Palette have emerged in recent years for touch-based photo editing, but those solutions generally don't come cheap. MIDI2LR lets you use any cheap MIDI controller you wish, and the open source code can be developed further by others in the future.
Here's a short 2-minute video showing how MIDI2LR is set up and used with Lightroom:
If you're interested in giving MIDI2LR a whirl, you can download it from its page on GitHub.
---
Update on 12/30/15: MIDI2LR can now be found in a new GitHub repository here.