Everyone is Mocking TIME's Latest Cover Photo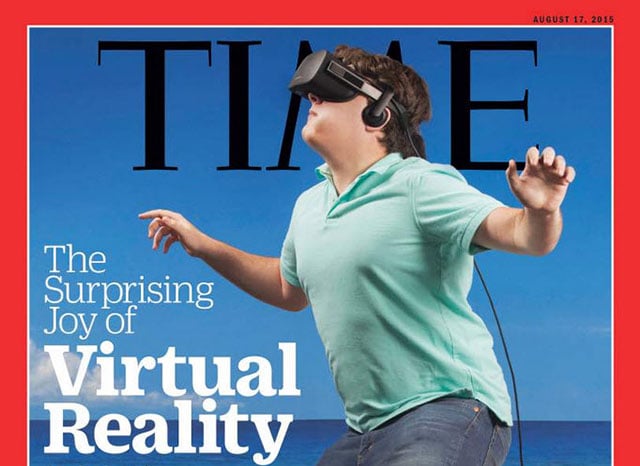 The August 17th issue of TIME magazine contains a cover story about the ongoing rise of virtual reality. Unfortunately for TIME, it's not the story itself that has everyone talking — it's the cover photo.

Here's what the cover looks like in its entirety:
After laying eyes on the photo, the Internet and media immediately began criticizing and mocking TIME for its choice of photo. The portrait shows Palmer Luckey, the 22-year-old wunderkind founder of Oculus Rift, wearing the VR headset he invented. Critics say the portrait makes Luckey look goofy and nerdy, playing off stereotypes instead of portraying him as a rising titan of tech.
"Time magazine's cover is the greatest threat to VR," PC Gamer proclaims. "Is Oculus Rift creator Palmer Luckey setting up for a Karate Kid-style crane kick? Is he flapping the wings of a virtual pelican, swooping into the ocean for a mouthful of delicious herring?"
"No one likes the 'Time' cover on virtual reality," writes USA Today. Forbes reports that debate is raging online about "whether or not TIME's cover has killed VR."
TIME has taken the criticism and jest in stride. After the cover photo spawned a new Internet meme, the magazine shared a collection of its favorite parody images yesterday:
Even though the cover may look like a portrait of Luckey that was slapped onto a stock photo of a beach, it appears that it's actually the result of an on-location portrait rather than a photo manipulation job. Photographer Gregg Segal made the photo for TIME by visiting the Facebook headquarters in Menlo Park, California, to photograph Luckey (Facebook acquired Oculus Rift for $2 billion last year).
This second photo from the same shoot shows that Segal decided to photograph Luckey in front of a large painting of a beach at FB HQ:
We're guessing that Segal actually had Luckey jump into the air in front of the mural to make it look like he's floating on a beach.
It may seem like most people disapprove of TIME's cover photo choice, but Segal and TIME do have one notable supporter and fan: Luckey himself.
The VR pioneer tells GameSpot that he wasn't surprised by public reaction to the photo.
"I don't get caught up in it too much. I think it's fun. I love the cover," he says. "People have said, 'Oh, this is going to set virtual reality back so far.' I'm like, are you guys really giving that much importance to an old-media cover?"
"It's insignificant in the scheme of this massive explosion in virtual reality's popularity. I love the cover; I think it's great."