LeBron James Hits Head on Baseline Camera Lens
One of the fixtures of NBA games is the row of photographers and cameraman sitting under the hoop near the baseline — something the players have complained about for years. That debate was reignited during Game 4 of the NBA Finals last night when LeBron fell into the row of cameras and slammed his head straight into the lens of a heavy broadcast camera.

Here are a couple of clips showing what happened:
LeBron was tended to by medical staff before re-entering the game with a bloody gash on his head: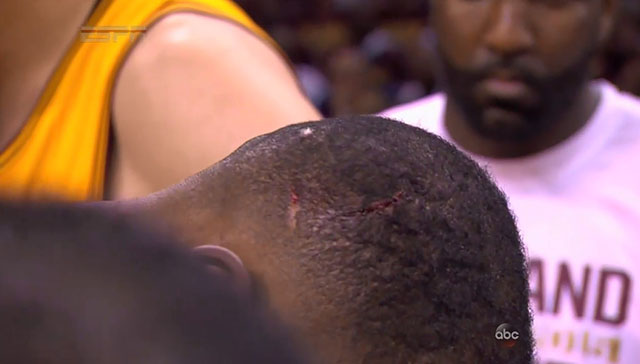 He later had the wound glued and stitched. Present and former NBA players immediately began calling again for photographers and broadcast cameras to be moved away further from the court for the safety of the players.
Now maybe we can get the cameramen moved back

— Lou Williams (@TeamLou23) June 12, 2015
Such a huge problem that people don't realize. Size and strength of NBA players is off the charts. Media cameras are too close to the court

— Meyers Leonard (@MeyersLeonard11) June 12, 2015
Get those damn camera men out the way

— JARRETT JACK (@Jarrettjack03) June 12, 2015
That's taking your job too literal… Move the camera!!!

— Ryan Hollins (@TheRyanHollins) June 12, 2015
The photographers may be extremely close, but that perspective has allowed them to capture some amazing close-up photographs of the action over the years. It remains to be seen whether the NBA will make any official changes to its policies after this latest incident involving its top superstar player.