Richard Prince Victim Responds by Selling His $90,000 Artwork for $90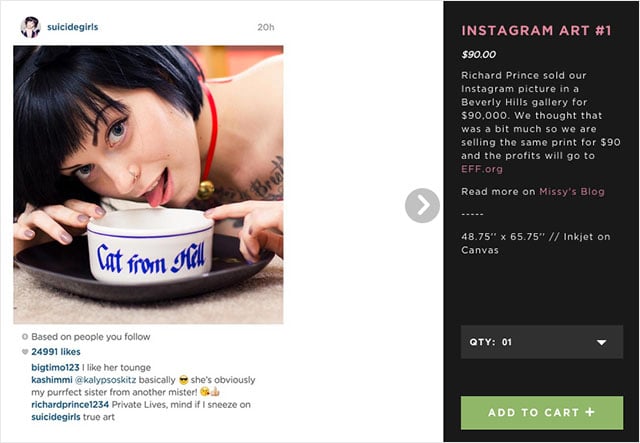 Richard Prince has caused quite a commotion over the past week after it came to light that he has been selling other people's Instagram photos for upwards of $100,000. Now, one of the people he took from is responding in a clever way: she's reselling Prince's artwork for $90 instead of $90,000.

The woman is Missy Suicide, the co-founder of the pin-up photo brand SuicideGirls. One of the photos featured in Prince's recent gallery show was an image that had been posted by the @suicidegirls Instagram account.
"Everyone has been asking me what I thought about famous controversial artist Richard Prince taking a series of SuicideGirls Instagram posts and printing them out and selling them at a recent gallery show at the Gagosian Gallery of Beverly Hills for $90,000 a piece," Suicide writes. "My first thought was I don't know anyone who can spend $90,000 on anything other than a house."
"As to the copyright issue? If I had a nickel for every time someone used our images without our permission in a commercial endeavor I'd be able to spend $90,000 on art."
In response to Prince's actions, Suicide just announced that she's selling the same print as Prince (based on her photo), in the same size (67×55 inches), with the same materials (inkjet on canvas) — but instead of the $90,000 he's charging wealthy art collectors, Suicide is only charging $90 each.
"Do we have Mr. Prince's permission to sell these prints? We have the same permission from him that he had from us. […] I hope you love them. Beautiful Art, 99.9% off the original price," Suicide writes.
Prince responded to Suicide today with a simple tweet:
Much better idea. I started off selling my "family" tweets for $18 at Karma not to long ago. Missy Suicide is smart. pic.twitter.com/3OfjgNBq4a

— Richard Prince (@RichardPrince4) May 28, 2015
The print is available through the SuicideGirls online store, and Suicide says that all profits from the sales will be donated to the Electronic Frontier Foundation.