365-Gigapixel Panorama of Mont Blanc Becomes the World's Largest Photo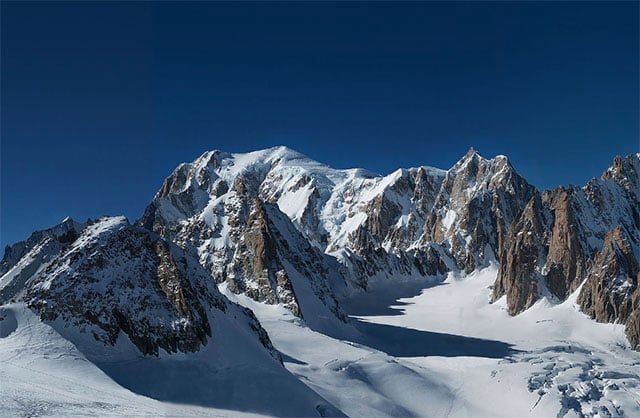 Say hello to the new largest photo in the world. An international team led by photographer Filippo Blengini has published a gigantic panoramic photograph of Mont Blanc, Europe's highest mountain. This new record-holding image weighs in at a staggering 365 gigapixels.

The photo is 45 gigapixels larger than the previous record-holder,
a 320-gigapixel shot of London
that was published back in 2013. This is what the entire Mont Blanc photo looks like when zoomed all the way out:
Here's a 100% crop of climbers on the distant mountain face near the center of the frame: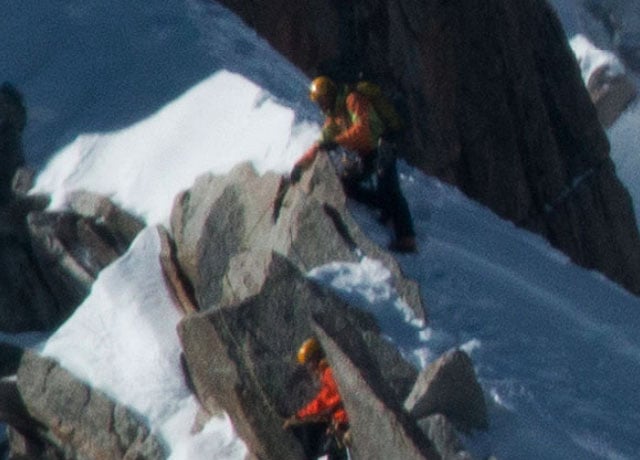 Some details on the photo and project: the 5-member team spent two weeks in late 2014 on the snowy peaks at an altitude of 3500 meters (~11,500 feet) braving -10°C temperatures. Using a Canon 70D DSLR, a Canon EF 400mm f/2.8 II IS, and a Canon Extender 2X III on a special robotic mount, they captured 70,000 photographs in every direction over 35 hours of shooting.
Post-processing and stitching the 46 terabytes afterwards took 2 months, and the resulting 365-gigapixel photo would be as large as a soccer field if printed out at 300dpi.
Here's a short behind-the-scenes video showing how the photo was made:
You can experience the full 365-gigapixel photograph for yourself through an interactive viewer on the project's website.
---
P.S. There's technically one photo that's (much) larger, but it wasn't even taken here on Earth. In 2014, NASA published a panorama of the Moon's surface that was captured over four years by the Lunar Reconnaissance Orbiter. That image is 681 gigapixels.
---
Image credits: Photographs by Filippo Blengini/In2White