Shooting Son Doong in 360°
As me and my team left for Vietnam this January, we had a goal: to make an interactive reportage about the world's largest cave for National Geographic. This included several things no one had ever attempted before: lighting up and capturing the largest caverns that exist on this Earth. In 360 degrees.
What could go wrong, right?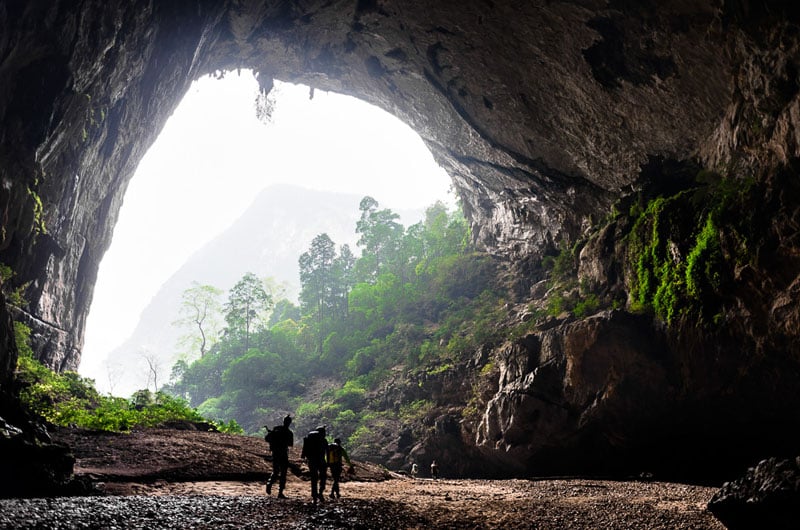 My name is Martin, and I work with interactive journalism. I'm using immersive forms of storytelling to bring about important stories to people in new ways, working at the intersection of photography, journalism and technology — a very interesting field, where innovation is key.
I think we have but scratched the surface of digital storytelling, and that we're nowhere near using all of the potential the internet has given us. This is a sector I want to help spearhead, to make important stories reach people in new and more interactive ways.
Immortalizing the World's Largest Cave
Since last year, I've been working on a large interactive experience about the world's largest cave: Hang Son Doong in Vietnam. I first heard about the cave sometime last year, and realized it would be a fantastic location to make an interactive experience, letting people explore it for themselves online. It's just such a fantastic location in itself.
About the same time, news broke that a Vietnamese tourism company wanted to build a quite intrusive cable car system through the cave, opening it up for a more massive tourism flow. This was met by outrage from both Vietnam and the world. Suddenly the conservation of Son Doong became an issue, and I knew that if I was ever to do this interactive experience, I had to do it now.
So, after quickly getting National Geographic to fund an expedition for me to make this happen, I reached out to a lot of equipment sponsors to help me make this possible. We were going to need a lot.
And suddenly, in November last year, we had a pending expedition that had to happen in January, leaving just about two-three months to plan for all of it (with Christmas in the way).
Now that the expedition can be declared a success (the interactive reportage published here), hindsight gives a nice aura to the project of creating an interactive reportage from the world's largest cave for National Geographic. It turned out well and has gotten great reception.
But there was a time when success seemed doubtful (at best). This was the hardest project I've ever planned for, both creatively and logistically. There were a lot of x-factors, mostly due to the fact that capturing images in 360 degrees is such a messy workflow compared to normal stills and video.
Lighting Up the Largest Caverns Known to Man
The first real problem, obvious to all photographers, was the lighting. How on Earth were we going to light these mammoth caverns? Not only in one direction, as for stills and video, but in 360 degrees?
Flash photography was not an option. This would have been ideal, of course, if we were just grabbing stills. But since 360 photography, especially in gigapixel resolution, requires us to shoot several hundred images to just capture one single scene, it would be impossible to use any flash system.
We needed some kind of portable flood lights, with the highest possible output.
My team and I started researching different ways to light things outdoors, focusing on portable solutions. Turns out there are very few. If you bring a generator, of course, you can bring any light source made for massive film sets. But this wasn't possible, especially not for the massive output we were going to need.
This video shows you how powerful these lights are. Notice how the daylight outside my windows goes almost dark once I flick the switch:
Then we found the small company X-LED Technology in the Netherlands. I immediately realized that this was the exact solution we needed.
X-LED make these fantastic LED-lights with an insane output of light — up between 30-40 000 lumen. That's a lot of light. Running on standard Ryobi 18v batteries, these lights were also perfect in terms of portability: we could just buy enough Ryobi batteries to get us through the shots in the cave (we ended up carrying over 16kgs of batteries just for these lights).
I quickly ordered three of these fantastic lights, two of them with a flood light beam of 90 degree soft spread, and one light with a more focused beam to be able to highlight some features inside the cave with more focused spotlight.
These three lights turned out to be absolutely vital to the expedition, providing all of the artificial light you can see inside the cave when looking at the interactive experience.
Shooting Gigapixel 360s in the Dark
In many locations inside the cave, we photographed 360 degree panoramic images at over 1 gigapixel, making sure to capture a lot of detail that can later be zoomed into by the reader/viewer. This creates a fantastic layer of interactivity, making it possible for people to not only walk through the cave at their own pace but also look in great detail at whatever features they are interested in. Have a look inside this 360 location and zoom in on top of the large green stalagmite. You can see a person standing there.
Shooting in 360 degrees is very different from shooting stills or video since the images don't come together until stitched in a computer. This means we can't preview it while shooting. So after spending full days inside Son Doong, getting multiple locations covered in hundreds of gigabytes of source images, we really didn't know if the images really turned out well.
It all came down to gut feeling, trusting our camera settings and our view of the lighting of the cave — trusting that it all would come together well once in post-production.
So every night in camp (we camped inside the cave for several days) we sat down by our laptops to test-render most of the images. It wasn't until this point we actually knew if the images turned out well and could see how it all came together.
I remember the first time we did this, after the first day of shooting inside the section called Hand of Dog. This was the hardest place to shoot: a massive cavern that can easily fit a Boeing 747 flying through. We did get a lot of light from the X-LED lights, but you never really know how it will turn out once stitched into a final image.
My team and I were completely spread out inside the cave, with three of my assistants just running around with a flood light and a walkie talkie to place the lights in the right positions. We could be a kilometer apart at times, struggling to place the lights before starting a gigapixel capture.
So after this first day of shooting in the dark (literally) we sat down to stitch the Hand of Dog-360 images. And they turned out to be amazing. The lights were enough, giving us enough to work with and making the massive cavern look great. This is how it turned out.
This was a huge relief, and made us trust more in the process while continuing through the cave. The concept worked – now we just had to replicate our workflow to capture the rest of the massive cave.
Walking Inside a Jungle, Inside a Cave
Moving through the cave was the most surreal experience of my life, slowly working our way through a landscape as alien as it was beautiful. Not only does Son Doong have massive caverns, it has two collapsed sinkholes that give natural daylight through the roof of the cave.
This has made the cave come alive, and made it possible for it to house a jungle of its own. Walking through these spectacular caverns, only to emerge inside a forest — inside the cave — was nothing but surreal.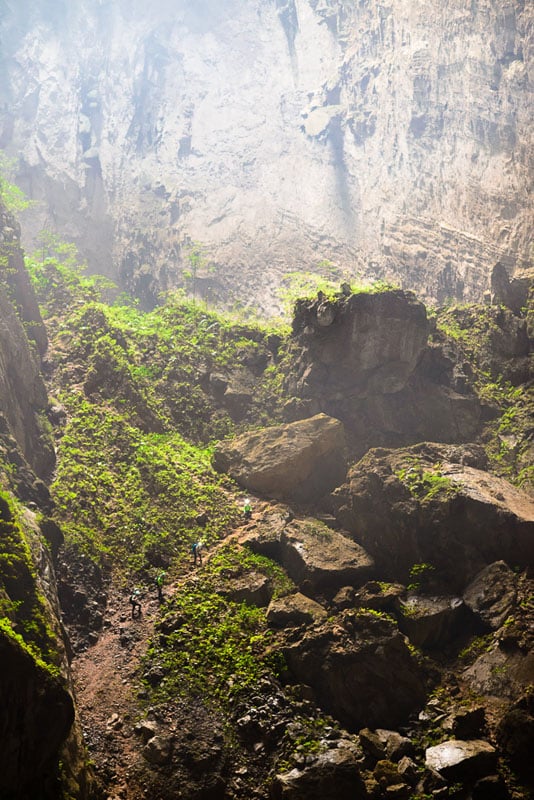 Apart from my core team of 7, the photography team, we had a large expedition team organizing everything within the cave for us. This meant we were about 50-60 people moving through the cave.
Yet, I always felt small.
We were nothing compared to this massive place, formed throughout the course of several million years.
The Post-Production Workflow from Hell
Returning home from Son Doong, we had about 700 gigabytes of source material to work with, most of it source images for 360 images, some video and lots of audio (though audio isn't very filesize heavy).
For all the gigapixel 360's we had shot, most of them were bracketed, meaning we had 3 or 5 layers of exposure for each shot inside the 360. This means some images had to be stitched together from between 200 and 400 individual photographs, to make up just one single 360 image.
This may not seem a lot compared to record-holding gigapixel shots, which can be hundreds of gigapixels. But considering that we had about 30-40 of these gigapixel locations to stitch, merging HDR exposures in the process, this was going to take a lot of processing power.
Having used the 38 megapixel cameras Nikon D800 and D810, we had RAW images of about 45 megabytes that were first RAW converted into 16-bit TIFF, resulting in source image files of about 200 megabytes.
This means that during the stitching of each and every one of these 360 images, about 60-90 gigabytes of data had to be processed by the computer at the same time. Thanks to my partnership with Dell, their powerful workstation pushed down rendering times, but this process was still a massive black hole of time-consuming post-production.
And we didn't even use half of the rendered 360s (though they might appear in a separate 360-tour in the future).
A Digital Copy of the World's Largest Cave, for Everyone to Explore
I'm extremely glad to finally be able to bring this interactive piece to readers all over the world, and in a way make the world's largest cave accessible for the people who might never get a chance to go there.
And no matter what happens, whether it is expanded for tourism with a cable car system or damaged by the severe storms and earthquakes that sometimes rock Vietnam, a digital copy of the cave will remain.
For you to explore. As if you were there.
---
You can find the full 360-degree interactive experience over on National Geographic's website.
---
About the author: Martin Edström photographer who is spearheading the field of immersive journalism and photography, telling stories in compelling ways. He has been a National Geographic Explorer since 2015. Visit his website here.