Review: Nucis Leather 'Simple Life' Camera Strap is Handcrafted with Care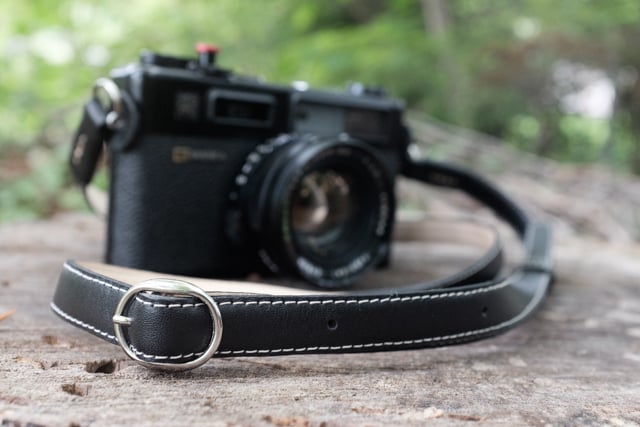 When it comes to photography accessories, it may first appear that there is no other object in such mass production as the camera strap. Stopping by even the smallest store will present you with racks of options.
However, today, we are here to tell you about one of our favorite straps; it is not without its faults, but it stands up to the tests of PetaPixel comfort and quality. We are talking about an accessory from a small Portugal-based company, Nucis Leather and their 'Simple Life' camera strap.

The overall design of the 'Simple Life' strap is exactly what the name suggests – simple. However, do not think of the word simple as a synonym for boring; the accessory is a beautifully crafted item worthy of being attached to even the most expensive camera bodies.
After unwrapping the strap from the included woven bag, I Immediately decided to clip the accessory onto my analog film shooter, a 1973 Yashica Electro 35 GTN. We received the black variation of the strap, which is also available in brown and light brown options. The black rendition with white stitching pulls the overall look of the duo together quite nicely.
The strap itself is 14mm wide and features two sides – both made from leather. The inside portion is one of our favorite additions that truly makes this item stand out. While the exterior black leather is beautiful to look at, the inner 'breathable leather liner' is extremely comfortable on the skin, without any worries of irritation. We would have liked to see a neck pad for extra comfort, but Nucis Leather has yet to release one.
The ends of the strap are folded over backward, then wrapped and sewn securely shut. The design not only feels secure, but is also an elegant solution to a common problem. Our strap included two metal rings that attached easily to our camera body's lug-mount design. Two medium-sized protective disks are included to protect the camera body against scratching; this is nice to see, as some manufacturers charge extra.
One of my personal favorite features of the Simple Life strap is it's belt buckle style adjustable strap. I've used quite a number of straps, and adjusting their length can be a pain when on the move. The buckle design allows the straps to be adjusted from around 37 inches (93 cm) to 43 inches (110 cm), which may be more of a difference than it sounds.
The only issue we had with the buckle design is that sometimes, the metal prong would stick up a bit. After a day of usage with my heavy 1.5 pound (25 ounces) Yashica, the strap did seem to adjust itself, and the prong is completely flat – no more worries.
The detailing of the strap is welcomed, and Nucis Leather confirmed that all of their products were hand stitched with 'waxed line' to ensure nothing comes undone. After a few days of wearing the strap, weaknesses do not seem to be in sight, and even with my heavy vintage rangefinder, my neck was entirely comfortable.
Throughout my days of shooting, I have used a lot of different straps, and the Simple Life felt like an item that needed to be highlighted. The careful attention to detail, high-quality materials, and buckle design, felt like a dream come true. Of course, dreams come at a price.
Products by Nucis Leather are not cheap. The Simple Life strap that we received costs €55 ($62) on their site; factoring in shipping is almost another €10 ($11). In American currency, that is over $70 for a single strap. Determining whether that price is worth it is completely up to you. We examined straps from other companies and found that decent adjustable straps with protective disks can be obtained for around $45.
As the photographer, you have to decide if paying an additional $15 is worth the extra comfort and design. The official word here at PetaPixel? Go for it — we don't think you will regret a Nucis Leather strap if you are looking for the near-perfect solution.
For more information on the Nucis Leather Simple Life camera strap and all of their other products, you can visit their website here.
---
Full disclosure: Nucis Leather provided the free sample unit that was used for the purposes of this review.