You Can Now Bulk Download from Flickr: Your Photos Really Do Belong to You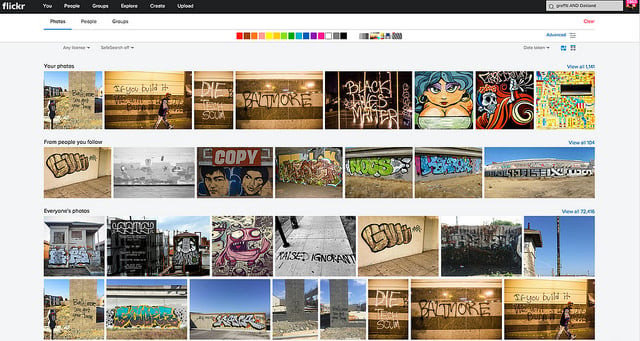 Today Flickr launched a number of new improvements to their service. In my mind, the most significant change is that Flickr is introducing the ability for you to bulk download your photos from their site.

I've been critical of Flickr in the past over the inability to easily get your photos back out of the service. While not a silo, Flickr's never made it exactly easy to get your photos back after you upload them.
You've always been able to download your photos on a photo by photo basis, but for someone with a ton of photos, downloading each and every one individually isn't very practical or user friendly.
For a while Flickr had partnered up with a company called Qoop (now out of business) that would bulk load your photos to CDs or DVDs and sell them back to you, but that never sat right with me either — why should you have to pay to get your own photos back? Also for someone like me with over 100,000 photos on the site, how many CDs would that take and how much would that cost?
Several third party developers had developed apps that claimed to be able to use the Flickr API to bulk download your photos for you. I tried many of these apps with names like bulkr and migratr and flickrsync over the years and never found any of them very reliable or easy to use.
All that changes today though as Flickr rolls out official support for batch downloading your photos from Flickr.
Now you can fill up that free 1 terabyte (or unlimited terabytes if you've got a grandfathered Pro account) with confidence knowing that if you ever want/need those photos back from Flickr you'll be able to get them back much more easily.
As I understand it, there still may be photo limits for how many individual photos you can select in camera roll for a single download for performance reasons, but you can select large batches of photos from the new camera roll and Flickr will convert those photos into a zip file for you and send them right back to you on your computer. The number of photos you can download is unlimited. You can download multiple zip files effectively accessing 100% of your photostream.
Today's new support for downloading is a very consumer friendly thing for Flickr to do. It is already very generous for Flickr to give people 1 terabyte of free cloud storage for your high res original photos, but now allowing you to get them back as easily as you upload them there makes this even more generous. Kudos to Flickr.
---
Editor's note: If you don't see these new features yet, just sit tight: Flickr may be rolling it out to all users over the coming hours/days.
---
About the author: Thomas Hawk is a photographer and blogger based in San Francisco. Visit his website here. This article originally appeared here.