Photographer Captures Jaguar Attacking a Caiman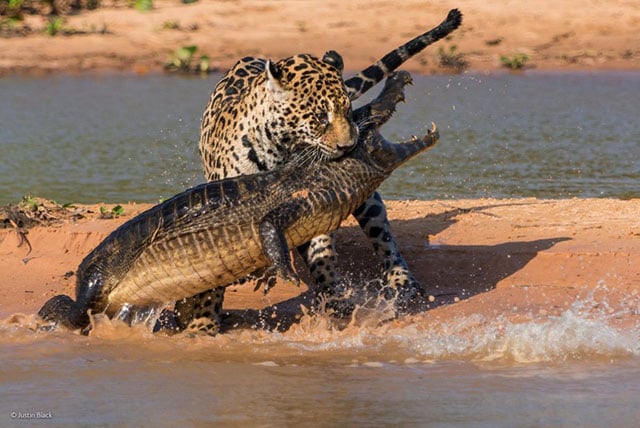 Photographer Justin Black captured this incredible photo of a jaguar attacking a caiman in the wetlands of Brazil.

Black was leading a group of photographs on a photo expedition through the region when he happened to witness the hunt. It was an eight-foot-long Yacare caiman being attacked by a 290-pound male jaguar that's known to local biologists as "Mick Jaguar."
Here's a sequence of photos Black shot that shows how the whole thing went down:
"The caiman weighed around 150lbs., but Mick appeared to handle it as easily as a big dog with a chew toy," Black writes. "He's an amazing animal, and we all felt privileged to have be fortunate enough to witness that spectacular display of power, grace, and hunting prowess."
"After this experience of a lifetime, we had a new appreciation for each jaguar we were fortunate enough to see."
The whole thing was also captured in a video that was shared by National Geographic:
If you'd like to shoot photos of Brazil's jaguars yourself, Black will be leading a "Jaguars of the Pantanal" expedition in August 2016. You can find out more about that opportunity over at Visionary Wild photo workshops and expeditions.
---
Image credits: Photographs by Justin Black and used with permission