The Pentax K-3 II: Pixel Shifting, GPS, Compass, and Star Tracking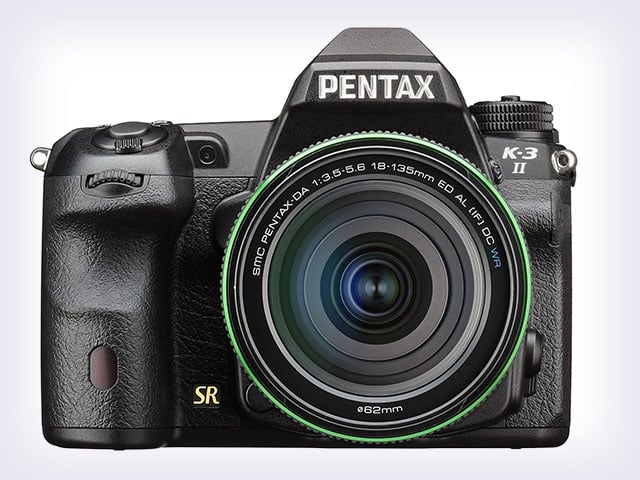 Ricoh today announced its new Pentax K-3 II DSLR, the successor to the K-3 of 2013. The camera packs a number of new features, including pixel shifting, GPS, and star tracking.


The K-3 II is the first Pentax camera to feature Pixel Shift Resolution, which uses the shake reduction mechanism to capture four photos in quick succession with 1 pixel offsets using its 24.35MP APS-C CMOS sensor. The images are then combined into a single high definition image.
However, unlike the Olympus OM-D E-M5, which uses sensor shifting to create 40MP images with a 16MP sensor, the K-3 II's pixel shifting creates higher quality images without increasing resolution. The high definition image that pops out is still 24.35 megapixels — it just has more resolution, reduced false color, and "improved overall quality" for non-moving subjects.
The K-3 II has a number of features that are geared toward photographers working out in nature, including a GPS receiver, GPS log, and electronic compass. These help the camera record where you are, the direction your camera is pointing, altitude, and a time-stamp. Together, the data allows you to map out your trail of images using services such as Google Earth.
There's also a new ASTROTRACER feature that uses the camera's GPS and shake-reduction features to track stars and planets when you're photographing the night sky. The camera "uses GPS and orientation location data together with magnetic and acceleration sensors to calculate the motion needed to synchronize the CMOS sensor with the movement of the stars," Pentax says, allowing you to capture stars as points instead of light trails when shooting long exposures.
Other features of the K-3 include: 4.5 stop shake reduction, an adjustable anti-aliasing filter simulator, a 3.2-inch 1.03-million-dot LCD screen, 1080p video recording at 30fps, a weatherproof construction, dual SD card slots, a 27-point AF system with 25 cross-type points, an ISO range of 100-51200, and 8.3fps continuous shooting.
The Pentax K-3 II will be available in May 2015 for $1,100.