This Camera Survived Three Months at the Bottom of the Ocean
Underwater photographer John Ng was diving off the coast of the Maldives last month when he noticed something stuck among the rocks and coral reef at the bottom of the ocean. After a recovery and investigation, it turned out to be an underwater camera that had been lost last year — a camera that was still perfectly functional.

Ng is part of a Scuba Monster underwater photography team that's based out of Hong Kong. During his dive in March 2015, he found the camera lodged inside a hole 18.5 meters (~61 feet) under the surface of the water.
There was a strong current at the dive site, so it took Ng about 10 minutes to get the camera housing out of its hiding place.
After bringing it to the boat at the surface, Ng was surprised to find that the Nauticam housing around the camera was still sealed and that the camera was perfectly fine in the vacuum inside. The $1,500 Panasonic Lumix GH4 emerged from its rough and battered shell and powered on as if nothing had happened.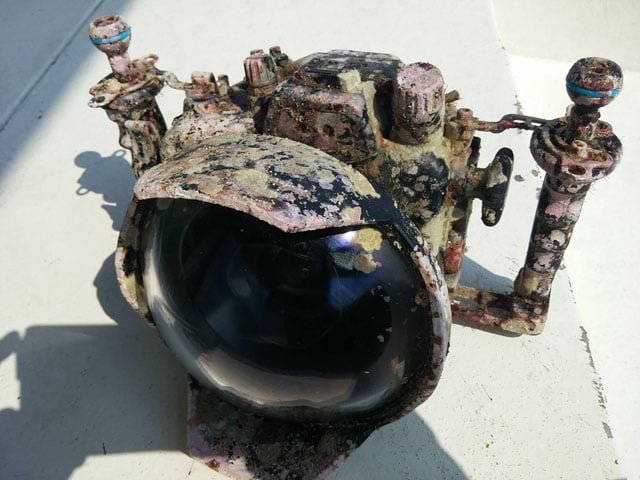 Ng then contacted Nauticam China and used the serial number on the housing to find the owner, a Malaysian photographer who lost the camera to strong currents back in December 2014.
Just like with the GoPro camera that fell from a skydiver and was found four years later with its footage intact, this is yet another crazy story of a resilient camera that managed to make its way back to its owner.
---
Image credits: Photographs by John Ng/Scuba Monster and used with permission