The First Ever Photo Showing Light as Both a Particle and a Wave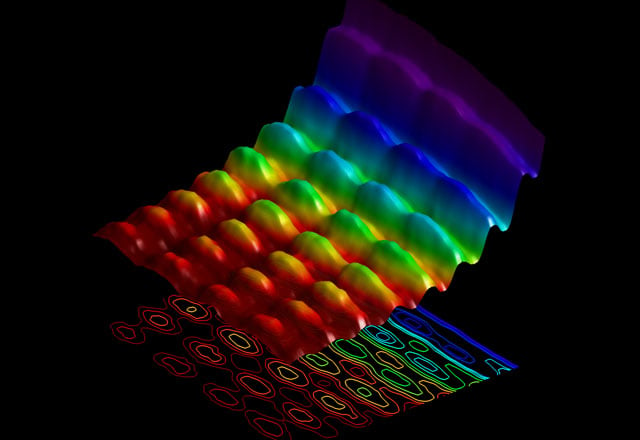 One of the strange properties of light is that it behaves as both a wave and a particle. Experiments over the years have confirmed both aspects, but none have succeeded in directly observing both natures at exactly the same time… until now.
Scientists in Switzerland have successfully captured the world's first photograph showing light behaving simultaneously as both a particle and as a wave. In the image above, the top "slice" shows light behaving as a wave, while the particles can be seen in the slice below.

The research was done at the École polytechnique fédérale de Lausanne (EPFL) and is being published
in the journal Nature Communications
.
If you're thinking that the photo they captured doesn't look like a traditional photograph, you're right. In photography, photons are used capture an image of the world, but in this case, scientists needed to capture a photo of photons instead of with photons.
To do so, they shot a stream of electrons at light confined on a tiny metallic nanowire. The electrons interact with the trapped light and either speed up or slow down. Scientists can then use an ultrafast microscope "camera" to capture the change in speed of electrons to visualize the light.
Here's a video that explains how this experiment worked and how the photograph was captured:
"This experiment demonstrates that, for the first time ever, we can film quantum mechanics – and its paradoxical nature – directly," says team leader Fabrizio Carbone.
(via Discovery via Metafilter)
---
Image credits: Photograph by Fabrizio Carbone/EPFL