Flickr Rolling Out Camera Roll: A New Way to Browse, Edit, and Organize Your Shots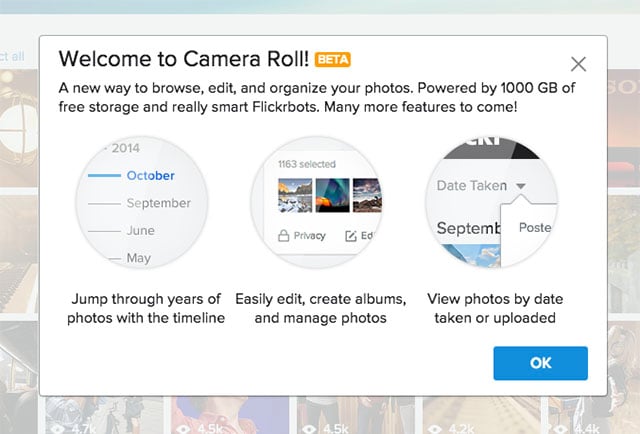 Flickr is rolling out a new feature called Camera Roll that's designed to make it even easier for users to browse, edit, and organize their photos. It's a speedy and intuitive interface that lets you jump around in time and make changes to quickly select multiple photos at once.

On the left side of the page is a timeline of years for photographs in your account. Clicking a year expands it to show the months in the year that contain images. Clicking around the timeline scrolls your Camera Roll to the correct position in time.
The feature really feels like you're presented with one giant camera roll from your first photo to your most recent one, and it makes browsing through your timeline of images a very enjoyable experience.
Photos in the camera roll can be organized by both date taken and date uploaded.
You can also select multiple photos at once by clicking each of them individually or by dragging your mouse over them to make the selection.
Once selected, you can change privacy on the images, edit them, add them to an album, or delete them.
Double clicking a photograph opens that photo's page in a new browser tab.
If you enjoy taking trips back in time and reviewing old images, or if you find yourself needing to work with multiple photos a lot, you'll probably enjoy this new Camera Roll feature that Flickr has developed.
Head on over to the new Camera Roll page to get started. It's not available to every user just quite yet (it's labeled a Beta feature), but sit tight and you'll likely be given access in the coming days.