Witnessing a Raging Wildfire Through the Lens of My Camera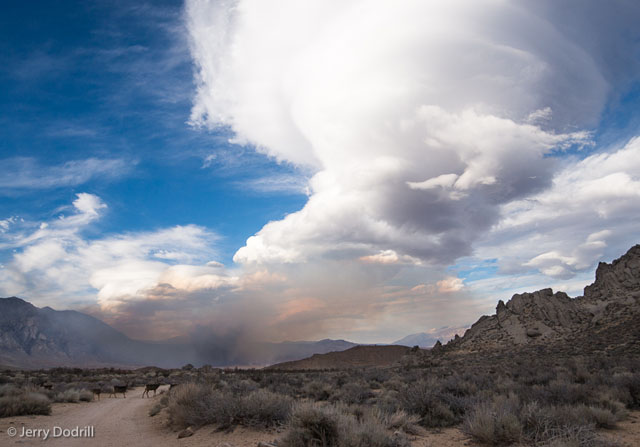 When photographer Jim Stimson and I started our Winter in the Eastern Sierra photography workshop at Mountain Light Gallery we knew the drought conditions would provide a challenge for us to come up with "wintery" scenes for our clients.
A major storm was rolling in and much of California was under flash flood watches. We were under a high wind advisory with rain and snow to follow. A power transmitter was blown down in the strong erratic winds and soon a wildfire was raging out of control.

It didn't take long to burn thousands of acres and nearly forty homes at Paradise and Swall Meadows. Enormous lenticular clouds spun overhead and seemed to be teasing the fire, luring it out to a dance. And dance it did!
A friend of mine who is on the local fire crew reported that they were burned over and all personnel had to run for their lives. Late in the evening I had a little time to break away to take some pictures of the fire, and just couldn't believe what I saw.
The scene was right out of hell, with fire burning every direction up and down Sherwin Grade. Flame lengths easily exceeded a hundred feet and ran up the slopes of Wheeler Crest faster than a speeding car. Rather than describe it in detail I'll just share some photos and a few minutes of video so you can see for yourself.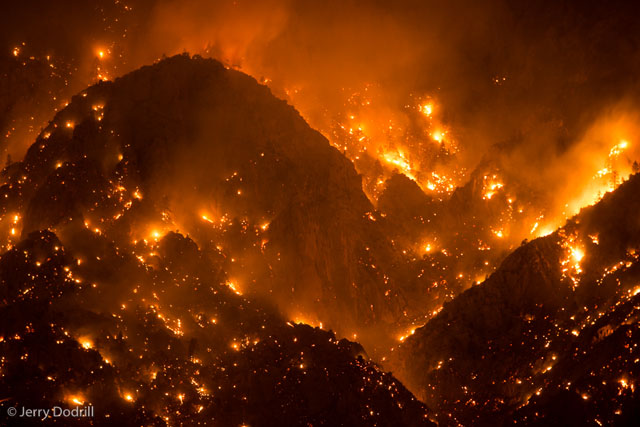 In these unedited clips you'll get a sense of the weather and wild fire behavior as it blew wildly up the canyons with tremendous speed and flame length. (The audio isn't good, so you'll want to turn down your volume.)
The next morning I woke up as if from a bad dream and was surprised to hear rain on the window. The storm had arrived, but much, much too late. A blanket of snow coated the crest squelching the fire. Our group drove out to the Owens River and photographed a hauntingly beautiful sunrise complete with God beams and rainbows.
If not for the pungent smell of wet sage mixed with thick smoke I may never have believed the nightmare.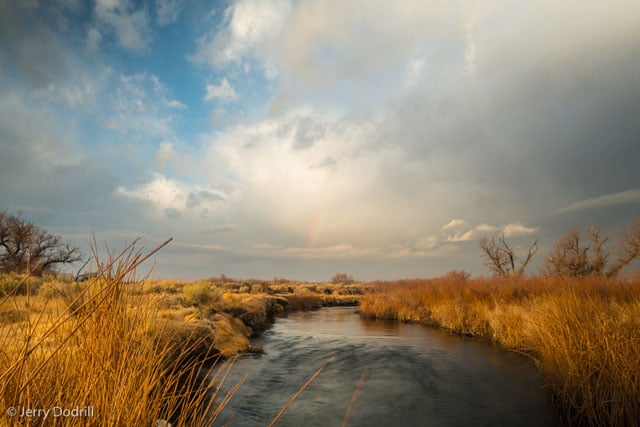 A relief fund has been set up to help victims of the fire who lost everything, including their homes. If you would like to help please visit the GoFundMe page and make a donation.
---
About the author: Jerry Dodrill is an adventurer and award-winning photographer who has traveled to remote corners while questing for wild experiences. He has exhibited his work in a number of renowned galleries, including the Ansel Adams Gallery in Yosemite. He is also active in teaching photography as a workshop facilitator with Mountain Light and Visionary Wild. Visit his website here. You can also find more of his work through his online portfolio. This article originally appeared here.