Photographer Brandon Stanton Raises $1 Million+ for Brooklyn School Through Portraits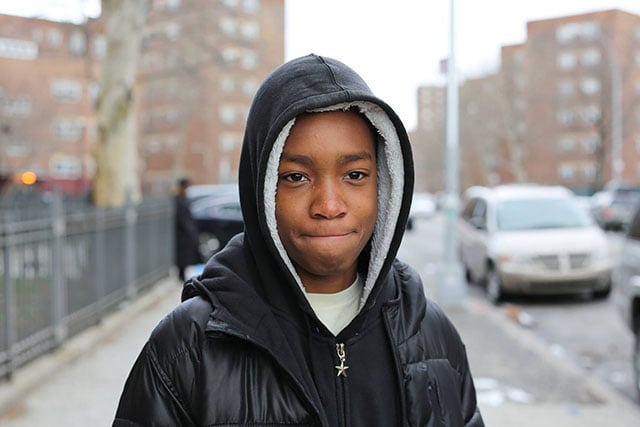 Photographer Brandon Stanton's Humans of New York has become one of the most influential photo projects in the world since it launched back in November 2010. Tens of millions of people follow Stanton as he shoots portraits of people on the street and shares the images online with their stories.
Here's a great example of how powerful his photos have become: a single photo posted earlier this month has raised more than $1 million for a school in Brooklyn to help send students to college.

It all started when Stanton ran into a 13-year-old student named Vidal. When asked about who had influenced him most in his life, Vidal surprised Stanton by picking his principal. Stanton then shared a portrait and the conversation through his website and social media channels:
After the photo received a huge response from his audience, Stanton visited the boy's school, Mott Hall Bridges Academy, located in one of Brooklyn's most crime-ridden neighborhoods. He interviewed Ms. Lopez, and had a new photo and story to share:
With so many people interested in this particular story, Stanton decided to launch a crowdfunding campaign for the school through Indiegogo.
The effort has since raised more than $1.1 million in 8 days, and there are still 10 days to go.
When the project blew past $700,000, Stanton and Vidal revisited the original portrait location to reshoot the portrait that started it all:
The money will be used to take each year's incoming 6th grade class on a tour of Harvard. "Since many of her scholars have never left New York, [Ms. Lopez] wants them to know what it feels like to stand on the campus of one of the world's top schools, and know that they belong," writes Stanton. "She thinks the experience will broaden their horizons and expand their idea of their own potential."
Each $30,000 raised will provide one class with a trip. The money will also be used for a scholarship fund for graduates of the school, to be named the "Vidal Scholarship Fund." It's first recipient will be Vidal.