Study Finds that Professionally Captured Photos Are More Memorable Than Amateur Ones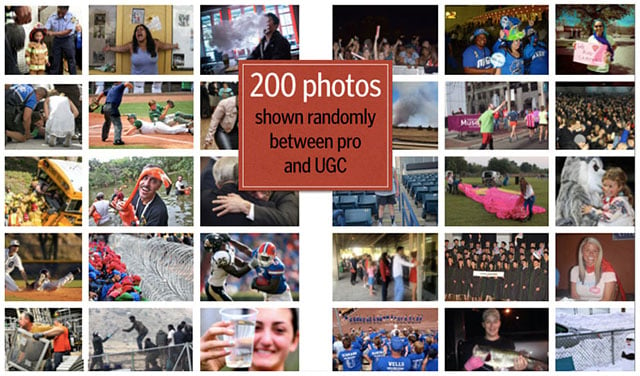 The National Press Photographers Association (NPPA) recently conducted a study that compares public perception of professional photographs versus amateur ones. The main conclusion was that, yes, people can tell the difference between the two, and that professional photographs are generally more memorable than their counterparts.

The study involved 52 subjects and 200 photographs — 100 captured by a professional photographer and 100 amateur "crowdsourced" photos that were published by various news organizations. The order of the photos was random, and the images appeared next to their original captions.
Researcher Sara Quinn placed the images before subjects and used special equipment to track and record their eye movements (20,000 movements were recorded in total). Quinn also asked the volunteers to rate the photos on different criteria and answer a series of questions.
In an NPPA article reporting on the findings, Quinn writes that the subjects were able to figure out whether a photo was professional or amateur 90% of the time.
Professional photos were also twice as appealing for sharing online, attracted attention for longer, and constituted 100% of the 20 "most memorable" photos, as selected by the participants.
Quinn also found that people value seeing faces, relationships, special access, quality captions, and good storytelling.
"NPPA honestly did not know what to expect," says NPPA President Mark Dolan. "We obviously were hopeful that research participants would have positive impressions, and were gratified to learn that those who were interviewed appreciated the value that high-quality images contribute to news publications and the publications' readers."